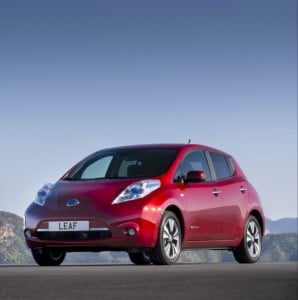 LEADER: Nissan Leaf hits 3,000 UK sales
Nissan are celebrating cementing their place as electric vehicle market leader after the 3,000th sale of the all-electric Nissan Leaf in the UK.
The manufacturer hit the landmark in November, when 141 new British-built Leafs were registered at dealerships across the country.
Nissan's second generation Leaf, which went on sale in May 2013, has secured more than 1,300 UK sales in just six months.
Jon Pollock, Sales Director at Nissan GB, said: "The Leaf is a true pioneer in every sense and in its lifetime it's already done a huge amount to change attitudes and open minds in the UK and across the world.
"The fact the we have been able to reach the 3,000 mark is a fantastic achievement and shows not only what a wonderful car it is but also that motorists are keen to experience the revolutionary new technology it introduces.
"The low running costs of the Leaf, not to mention its many other benefits, make it an incredibly attractive proposition and we have been seeing steady growth in sales.
"We expect that trend to continue rising as the model's visibility increases and the rapid charging infrastructure expands across the UK."