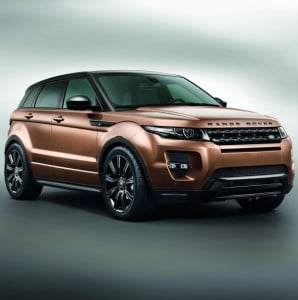 UPGRADE: New Range Rover Evoque
Land Rover's new Range Rover Evoque will offer 11.4% lower fuel consumption and 9.5% lower CO2 emissions, it has been announced.
Combined fuel consumption for the 2014 range is up to 57.6 mpg, with CO2 emissions starting from as low as 129g/km, thanks to 'major new technologies'.
According to the manufacturer, customers ordering the new compact SUV – on sale at the end of this year – will also enjoy newly-available comfort, convenience and connectivity enhancements.
These include ZF-9HP nine-speed automatic transmission, new driveline technologies, seven new driver assistance features and detail design enhancements.
The 2014 Evoque will continue to be powered by Land Rover's range of economical and light weight four-cylinder engines.
Customers can choose either the 2.2litre diesel 150PS, 2.2litre diesel 190PS, or 2.0litre petrol 240PS.
John Edwards, Global Brand Director of Land Rover, said: "With global sales of more than 170,000 vehicles in just 18 months, the Range Rover Evoque has proven to be hugely successful and the 2014 model is destined to have even greater appeal.
"We are thrilled to be moving the Evoque on to the next stage and believe the exciting new driveline technology, driver safety and convenience features plus the Land Rover InControl connectivity capability make the 2014 Evoque an unbeatable choice for customers seeking the ultimate in compact SUV vehicles."
First shown at the Geneva Motor Show in March, the ZF-9HP automatic transmission is among the world's first nine-speed units fitted to a passenger car.
It has an ultra-fast response time – described by ZF as 'below the threshold of perception' – and an adaptive shift programme that quickly matches the driving style.
With a wide spread of ratios and improved efficiency, the new transmission delivers improved economy, reduced emissions, enhanced performance and greater comfort.
Driver assistance capabilities are also enhanced by features including Park Exit – to automatically exit parallel parking bays – and Perpendicular Park – to position the car centrally in parking bays.
Closing Vehicle Sensing, Reverse Traffic Detection, Lane Departure Warning, Traffic Sign Recognition and Wade Sensing are also included.
The brand new Land Rover InControl connected car system, available as an option, incorporates two new features – InControlRemote and InControl Secure.
Land Rover InControlRemote allows owners to trigger an SOS Emergency Call which automatically informs the emergency services of the vehicle's position.
InControl Secure, meanwhile, tracks the vehicle in the event of a theft using advanced tracking technology.