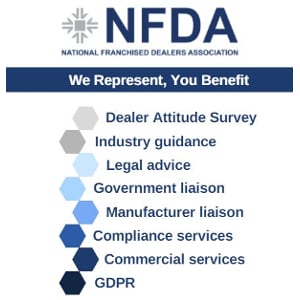 The Winter 2017/18 NFDA Dealer Attitude Survey has revealed that the average satisfaction score given to vehicle manufacturers by the franchised dealers has decreased by 0.3 points in the past six months since the Summer 2017 survey.
Out of all respondents, eighteen manufacturers fell in their overall score and nine scored more highly than six months ago. The most improved manufacturer, from the dealers' perspective, was Nissan with an improvement of 2.2 points. The best performing manufacturers, scoring 8.9 out of 10, were Kia, Mercedes and Toyota. Alfa Romeo, Fiat and Jeep were the lowest overall performers with Alfa Romeo declining by 2 points.
The NFDA, which represents franchised car dealers in the UK, carries out the Dealer Attitude Survey on a biannual basis. The results display the general health of the dealer/manufacturer relationship, indicate potential difficulties and highlight where there are strong and constructive working relationships.
As with previous surveys, respondents were asked a series of questions covering a range of business issues and their impact on the relationship with manufacturers. Responses are scored from 1 (extremely dissatisfied) to 10 (extremely satisfied).  The NFDA surveyed 29 franchised networks and received 1,893 responses from dealers, equating to a 47% response rate – the highest response rate since the inception of the survey in 1989.
Sue Robinson, Director of the NFDA, said:
"Now into its 29th year, the Dealer Attitude Survey continues to provide constructive and informative feedback from the franchised dealer network to the manufacturers. 
"The close relationship between the franchised dealers and manufacturers is a differentiating factor that allows consumers to benefit from best-in-class customer care and enables franchised dealers to continue to stand out."