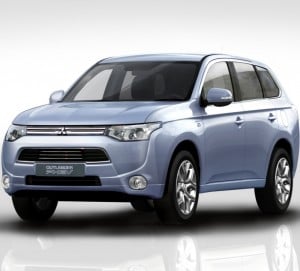 EXEMPT: No charge for Outlander
Mitsubishi's new Plug-in Hybrid Electric Vehicle (PHEV) will be exempt from the London Congestion Charge, it has been confirmed.
The Outlander PHEV 4×4 SUV achieves up to 148mpg and offers 44g/km CO2 emissions, meaning no vehicle excise duty and a benefit-in-kind rate of just 5%.
Such figures also mean the hybrid meets the new Congestion Charge threshold of being able to travel more than ten miles on electric and emit less than 75g/km CO2.
The Outlander can cover 32miles in pure EV mode and speeds of up to 75mph.
Toby Marshall, Sales and Marketing Director of Mitsubishi Motors in the UK, said: "Everyone at Mitsubishi is incredibly excited about the arrival of the PHEV version of Outlander.
"Not only is it extremely clean and green, but it is fantastic to drive.
"Power from the car is delivered quietly and smoothly.
"It certainly doesn't hang around either!
"With so much already going for it, the fact that it now qualifies for Congestion Charge exemption is great news."