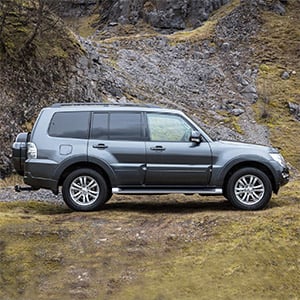 The Mitsubishi Shogun 4Work Commercial has underlined its unrivalled versatility as a working vehicle in all road and weather conditions by winning the 'Commercial 4×4' category at the Professional Pickup & 4×4 Awards 2018.
Hosted by Professional Pickup & 4×4 magazine, the new awards highlight the vehicles that are the hardest working 4x4s. Rather than being judged by journalists, the award winners are determined by leading industry professionals who use pickups and commercial 4x4s as part of their working life.
Blending the legendary off-road capability of the Mitsubishi Shogun with a payload of up to 655kg, the Mitsubishi Shogun 4Work Commercial won praise from the 'real world' judging panel for its advanced drivetrain, sizeable load area and ability to tow up to 3,500kg.
On the judges' decision to award the Mitsubishi Shogun 4Work Commercial, Liam Campbell, Editor, Professional Pickup & 4×4, said: "The Shogun is the 4×4 Commercial market leader by some margin, and it's not hard to see why. The Shogun boasts a spacious load area and a 3.5t towing capacity on the long wheelbase, and Mitsubishi's Super Select four-wheel drive system is, in our opinion, the best that money can buy and has been for some time."
Lance Bradley, Managing Director, Mitsubishi Motors in the UK, said: "We are delighted to win this award, especially as the judging panel has years of 'hands on' experience of using 4×4 vehicles in the harshest of working environments. The Shogun 4Work Commercial really is the perfect vehicle for business users who have to get the job done, no matter the weather or road conditions, but at the same time as being a tremendous working vehicle it also offers the considerable ride and drive advantages of a normal Shogun."
The dedicated, business-focused Mitsubishi Shogun 4Work Commercial is available in short wheelbase, three-door body style with a choice of three trim levels – SG2, Warrior and Barbarian – and in long wheelbase, five-door format in SG2 specification. Standard equipment includes Mitsubishi Active Stability and Traction Control (M-ASTC), 18-inch alloy wheels, a fully flat load area, LED daytime running lights, rain and dusk sensors, keyless entry, climate control, cruise control, heated front seats and Bluetooth.
All versions are powered by a 3.2-litre turbodiesel engine, which produces 441Nm of torque at only 2,000rpm, matched to a five-speed automatic transmission and the unique Super Select II all-wheel drive system. It offers business users a payload of up to 655kg, a towing capacity of 3,500kg and the tax advantages of a light commercial vehicle.