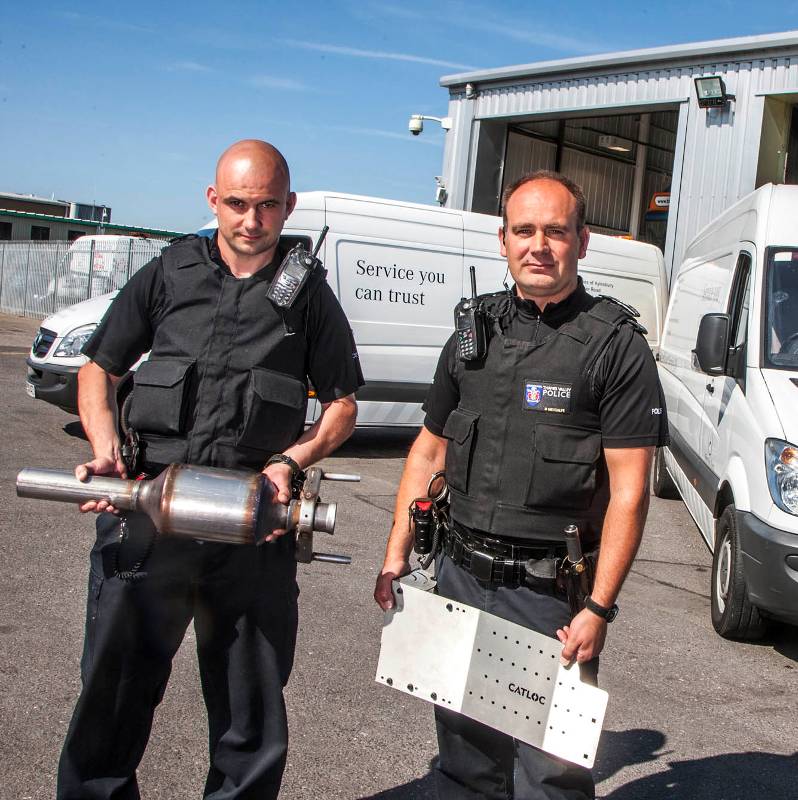 PROBLEM: Catalytic converter theft is growing
Mercedes-Benz van dealer Hughes of Aylesbury are joining forces with Thames Valley Police in a crime-busting initiative designed to thwart metal thieves.
Organised gangs nationwide are targeting catalytic converters fitted to many brands of van and 4×4, due to high values of platinum, rhodium, palladium and other precious metals.
Both types of vehicle are vulnerable to this crime because of their relatively high ground clearance.
On several occasions police have caught suspects red-handed with batches of catalytic converters.
However, they have been unable to bring cases to court because they had no way of proving they were stolen.
Since last September, Mercedes-Benz have ensured all exhaust systems on new Sprinter vans are security-etched, with windscreen stickers warning thieves that the 'cat' has been marked.
This means that should the component be stolen and subsequently recovered, police have a much better chance of bringing a successful prosecution.
Hughes of Aylesbury are now inviting customers who bought their vans before etching catalytic converters at the port of entry, to return and enjoy the process for free.
In a joint initiative with Thames Valley Police, Darren Nottingham, Service Manager of Hughes, has written to 2,000 customers.
He has warned: "In minutes thieves can simply cut the catalytic converter from the exhaust pipe of a parked van – they then sell it, achieving anything from £50 to £200 for each one.
"The costs to you, however, are likely to be far greater.
"As well as those associated with the loss of man hours and having your vehicle off the road, catalytic converters can cost close to £2,000 to replace."
In addition to etching each catalytic converter with the vehicle's registration number, Hughes of Aylesbury are also spraying the unit with UV-tagged forensic paint.
Like other Mercedes-Benz dealers, for extra protection Hughes can also supply and fit Catloc devices and ProCatt alarms.
Anti-tamper bolts are used to fit the Catloc, which provides a protective shield for the catalytic converter.
Meanwhile, the Thatcham-approved ProCatt system activates if the exhaust is cut, the bonnet is opened, the exhaust, engine or battery are tampered with, or the catalytic converter is unbolted.
Detective Inspector Ian Wood, of Thames Valley Police, said: "Catalytic converter theft is becoming increasingly organised and is a problem that affects many different types of vehicle.
"We are keen, therefore, to work with manufacturers and their dealers to combat this crime by making it more difficult for thieves to steal these items in the first place, and making it easier to bring successful  prosecutions when we catch them.
"So, of course, we fully support Hughes of Aylesbury's retrospective security marking initiative, which we would like to see other dealers replicate.
"Not only will it make it less likely that Hughes' customers become the victims of crime, but it will also make our jobs easier when it comes to recovering stolen items and bringing the perpetrators to justice."
John Reed, Van Product Manager at Mercedes-Benz UK, added: "The Mercedes-Benz Sprinter was the first van to achieve the Euro 5 emissions standard and because this required the use of a catalytic converter with a relatively high proportion of precious metals, our vehicle was initially targeted by thieves.
"But now the other manufacturers are using these types of exhausts and this is becoming very much an industry-wide problem."