HAILED: JR Allen pleased with Arocs
Concrete contractors JR Allen have hailed Mercedes-Benz after reaping the benefits of an 8×4 Arocs 3243B mixer.
Obtained via local dealer Intercounty Truck and Van, Peterborough-based owner-driver Tom Allen lined up his capture to work alongside a 6×4 Axor 2633 mixer.
The latter, also supplied by Intercounty, has provided service for two years.
Mr Allen said: "It was the Axor's excellent performance that convinced me to invest in my new Arocs.
"It's a superb vehicle, so when I came to replace an 8×4 chassis by another manufacturer I was always going to do so with another Mercedes-Benz."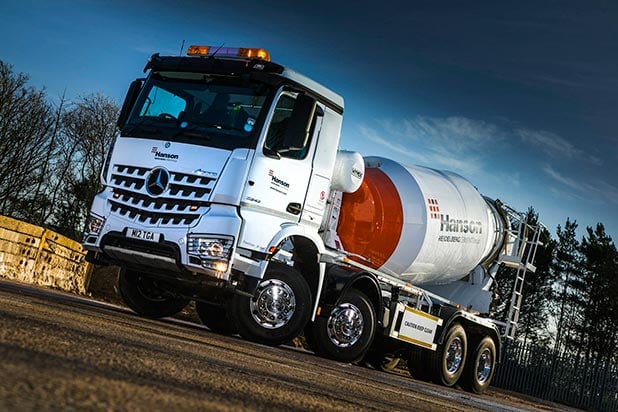 "This truck offers excellent ground clearance and from what I've seen of its off-road capability I'm confident it will take everything in its stride."
Tom Allen, JR Allen
In a typical day, the company's two trucks each make up to ten short-radius trips between one of their customer's plants and a large construction site.
Mr Allen added that the new truck's Mercedes PowerShift 3 automated transmission is a big advantage.
"A lot of the work involves driving through busy city streets so the auto 'box certainly makes life easier for my left leg!" he said.
"I also had the truck fitted with 360-degree cameras – if I indicate to turn left, for example, the camera automatically shows me a view down that side of the truck, including the blind spot, so I can see any cyclists.
"The Arocs will also have to contend with some very rough construction sites, on which driving conditions can be extremely demanding.
"But this truck offers excellent ground clearance and from what I've seen of its off-road capability I'm confident it will take everything in its stride."