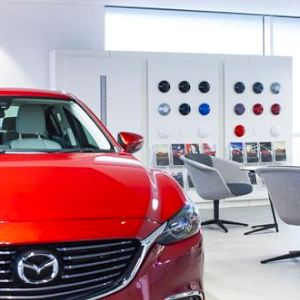 Mazda dealers across the UK have increased their average profitability by 38 per cent year-on-year, while 2017 also saw the network achieve a Mazda return on sales percentage (ROS) of 1.4 per cent – compared to 1.0 per cent in 2016.
"I'm delighted at the performance of our dealer network and their success in 2017, particularly when you consider this business achievement comes at a time of reducing retail sales across the whole UK car market and wavering consumer confidence in the face of challenges like Brexit and potential economic uncertainty," commented Peter Allibon, Sales Director Mazda Motors UK.
Adding, "this success comes from the hard work and dedication we see across our network to deliver an excellent customer experience, it's also a reflection of improved new car margins and service departments benefiting from an increased vehicle parc. Even better, with our latest SKYACTIV technology generation cars now arriving in large numbers into the used marketplace, dealers are also profiting from strong used car performance."
In addition to 2017 seeing strong dealer profitability across the network, it's also worth noting that the top 25 per cent of Mazda dealers in the UK achieved a 3.33 per cent ROS, while the summer 2017 National Franchise Dealer Association (NFDA) survey ranked Mazda in fifth place out of 29 manufacturers.
Commenting on the results, Brett Hague, Head of Network Strategy at Mazda UK said, "our strategy to be the franchise of choice is focused on practical and right sized facilities that deliver a return on investment for our dealer partners. We also work hard to ensure we are easy to do business with and clearly our stylish, good to drive and efficient model range plays a big part in the success story."
Adding, "the investment by our dealer partners in our latest corporate identity over the last few years means we have an attractive, premium and modern retailer network that delivers an outstanding consumer experience to Mazda customers. I'm also pleased that 2018 will see a number of brand new Mazda dealerships being built by our dealer partners, and I've no doubt that our network's excellent profitability results are a key factor in this continued investment in the Mazda brand."