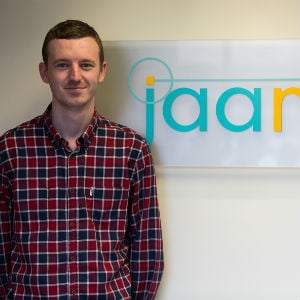 The first recruit has joined a graduate recruitment and training programme established by Jaama, the UK's leading fleet and asset management software supplier.
Stephen Ashe (pictured) has joined Jaama as a graduate software developer having recently achieved a first class honours degree in computer science at Aston University. Whilst at university he completed a placement year with a small web applications company in Sydney, Australia.
Jaama's software development team has expanded rapidly this year – two software developers were recently appointed along with a software tester – due to ever-increasing demand from vehicle rental and leasing companies, fleet operators and the plant hire industry for the company's cutting-edge software solutions.
Mr Ashe will follow Jaama's new in-house training and development programme over the coming months.
What's more as Jaama continues to expand its customer base using its sophisticated multi award-winning Key2 software delivering innovative asset and driver management solutions, more graduates are expected to be recruited in different areas of the business, which now employs almost 70 people.
Jaama managing director Martin Evans said: "We have wanted to launch our own graduate recruitment and training programme for some time. Now, due to our significant expansion and the requirement for a larger development team we have the capacity for mentoring." 
Jaama is based in Tamworth, Staffordshire, and Mr Evans added: "We also wanted to support the local area and only sought graduates from local universities. Stephen lives in the town and has graduated from a local university."
Mr Ashe said: "I joined Jaama as it is an expanding company and has launched a graduate scheme which will enable me to learn from those around me and therefore advance my own software development skills that will fit the Jaama methodology.
"I am hoping to consolidate the skills I have learned during the past four years at university and on placement and hope to push forward within the company eventually losing the 'graduate' part to my current job title."
Mr Evans added: "2016 is proving to be another fantastic year for Jaama. We have the resources in place and continue to invest significantly in the development of our Key2 management software which leads the industry with an ever-growing number of companies implementing the technology to manage their asset base and drivers."