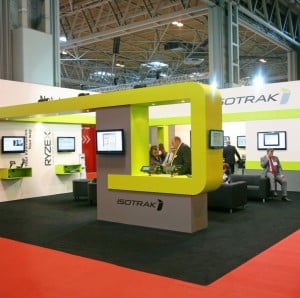 CUTTING: Isotrak will exhibit
Visitors to Commercial Motor Live 2013 will have the opportunity to see for themselves new cutting-edge telematics and vehicle tracking developments from Isotrak.
Latest electronic proof-of-delivery systems, mobile data communications, in-vehicle camera links and workshop software linking with live data from vehicle CANBus systems, will all be on view.
Isotrak's host-managed service allows users to control their transport operation using a user-friendly browser-based system that interprets satellite GPS tracking and vehicle telematics data.
This gives them real-time visibility and measurement of whole-fleet and individual-vehicle performance.
The system is used by a wide range of customers, from high-street retailers' fleet operations and logistics suppliers to smaller companies seeking efficiency improvements.
Alan Gunner, Sales and Marketing Director of Isotrak, said: "Over the past fifteen years, Isotrak has developed a market leading product range covering HGV, LGV and van telematics.
"These help our customers to save money and improve service regardless of the size of their fleet.
"We offer template-based route sequencing, safety camera technology, fuel theft prevention, mobile working, remote driver card and vehicle data download, electronic proof of delivery (ePOD), satellite navigation plus a host of other functionalities all provided from a single-source, managed service.
"In the UK, we support more than 45,000 vehicle connections for customers many people will recognise instantly, including Tesco, Asda, Sainsbury's, Marks & Spencer, Skanska Utilities, Royal Mail, Eddie Stobart, DHL and Robert Wiseman Dairies.
"Other customers we serve include Ringtons, Graylaw Freight Group, Davis Haulage, C. Butt and many others.
"Combined with our activities in the USA, we are helping our customers worldwide save £100 million on fleet operational costs."
Commercial Motor Live 2013 will be held at Millbrook Proving Ground on Wednesday, October 2 and Thursday, October 3.