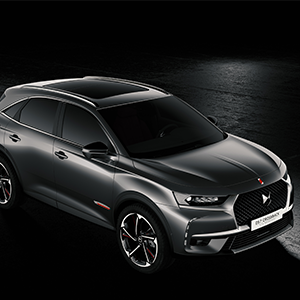 Initial customers of the new DS 7 CROSSBACK will be those that place orders for the exclusive Limited Edition La Première model – a premium-specified, sumptuously-equipped distinctive SUV vehicle that features an impressive combination of advanced technology features.
La Première includes features of charismatic design; Elegant proportions, DS ACTIVE LED VISION, Hypnotic 3D rear lights and two 12-inch instrumentation screens with an innovative interface. French luxury know-how is clearly evident with the 'Art Rubis' leather upholstery interior trim – unique to La Première – with an obsession for detail and magnified interior roominess.
Cutting-edge equipment
This innovative approach goes hand-in-hand with the cutting-edge features of DS 7 CROSSBACK La Première with the latest technologies that will subsequently be available across the range.
DS CONNECTED PILOT -paving the way for autonomous driving through Active Cruise Control and Lane Keeping Assist, DS NIGHT VISION – considerably improving visibility for driving at night, and DS ACTIVE SCAN SUSPENSION – the 21st century DS suspension system, which uses a camera to anticipate bumps and undulations in the road for optimising ride comfort.
Distinctive styling
DS 7 CROSSBACK La Première stands out for its chic, exclusive styling: an elegant, charismatic allure with a choice of colours; Cumulus Grey metallic, Pearl White or Perla Nera Black pearlescent contrasting with a unique Nappa leather upholstery in a shade called Art Rubis, for a deep, welcoming environment.
The refined watchstrap leather design of the seats is accentuated by pearl top-stitching, and the Nappa leather features a patina effect. Further, the exclusive B.R.M R180 timepiece displays the colours of the interior environment, while the dashboard and protective floor mats carry La Première identity.
Reflecting an obsession for detail, touches of the characteristic Art Rubis shade can be seen on the vehicle's exterior, on the DS monogram badging at the front, the badges on the side and even on the sculpted 20-inch 'Paris' gloss black Onyx diamond-cut alloy wheels.
This Limited Edition model magnifies a wealth of specification highlights available on the new DS SUV range, which is set to delight its first drivers.
To ensure optimised dynamic performance, DS 7 CROSSBACK La Première is available with a choice of the two most powerful engines in the range: Diesel BlueHDi 180 S&S and Petrol THP 225 S&S, both mated to the latest new-generation Efficient Automatic Transmission with 8-speeds (EAT8).
In the UK, DS 7 CROSSBACK La Première is available with the choice of the two power units, one petrol, one diesel, both priced at £42,650 on-the-road.
Optional features include:
      –  DS Night Vision Pack: £1,300
      –  Electric opening panoramic sunroof with LED lighting: £1,000
      –  FOCAL Electra® HiFi system with 14 speakers and perfected audio experience: £990
      –  DS Urban Pack (Park Pilot and 360 Vision): £600
      –  DS ConnectedCAM: £350
      –  Extended bi-zone automatic air conditioning: £200
      –  DS Sensorial Drive (Cashmere or Titanium modes): £150
Potential customers are invited to make reservations for the Limited Edition, which is only available to order in 2017 until 31 December. 

This Limited Edition of the new DS 7 CROSSBACK – La Première is available to review online via the DS brand website: DS. To reserve one of these exclusive and highly-specified Limited Edition DS 7 CROSSBACK La Première vehicles, anytime anywhere, customers can simply follow the step-by-step guide.
As part of the online discovery of this first DS 7 CROSSBACK Limited Edition, customers will be able to configure their specific vehicle (their choice of body colour, equipment, powertrain, etc.). Buyers who reserve La Première will be kept progressively informed with all developments and status before taking delivery of their special vehicle.
Virtually available now
All those who would nevertheless like to become instantly acquainted with the new vehicle, admire the body colours available or discover the exclusive equipment features, they will be able to do so by stepping into a virtual world.
DS 7 CROSSBACK La Première is also available for viewing in every detail exclusively with DS Virtual Vision – the highest-quality virtual reality experience set up in DS Stores and DS Salons, the first of which is available now at the DS Urban Store in Westfield London, the high-class shopping centre in White City.
With this innovation, customers will be able to use a headset to view in high quality definition the new SUV full-size in 3D as part of a dynamic, interactive and captivating experience. Orders can also be placed at a DS Store or DS Salon (part of the DS network of Dealerships) via the website.