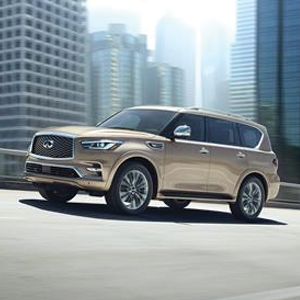 INFINITI unveiled its all-new QX80 full-size luxury SUV today at the 2017 Dubai International Motor Show. Although the top-of-the-line SUV is not sold in Western European countries, it fascinates enthusiasts across the continent and is an iconic car for the brand globally.
The QX80 takes INFINITI's 'Powerful Elegance' design language in a bold new direction, creating a vigorous, contemporary and commanding aesthetic. The new model reveals a modern exterior design combined with a high-tech cabin engineered for relaxation. The new INFINITI QX80 has been designed and engineered to allow customers to travel everywhere in style and luxury and it strengthens the brand's position in the full-size SUV segment.
The QX80 has a refined and spacious cabin that features high-quality materials, a hand-crafted finish and advanced drive-assist technologies. With a taut yet comfort-oriented suspension, and ample performance from its 5.6-liter V8 engine, the new QX80 gives drivers an assured feeling of control and confidence at the wheel.
The full-size luxury SUV will go on sale in select INFINITI markets across North America, Asia, Russia and the Middle East from the end of 2017.