Honda UK has today announced high scores on the customer review website, Reevoo. An outstanding 97% of customers on the site would recommend the Honda dealership they visited.
Revoo collects honest and independent reviews that represent real life customer experiences – for Honda, it is the sales experience they are reviewing. These reviews play a crucial role for other customers when choosing which dealership to visit, highlighting the positive and negative when it comes to the sales experience.
As you'd expect from Honda, there was a minimum of the negative and Honda dealerships scored exceptionally well, with many receiving an outstanding 100% customer recommendations.
Honda values the opinions of its customers and knows that advocacy can be a fundamental trigger in any decision-making process. Revoo supports this approach by providing a platform that offers genuine reviews that can help customers to make an informed decision.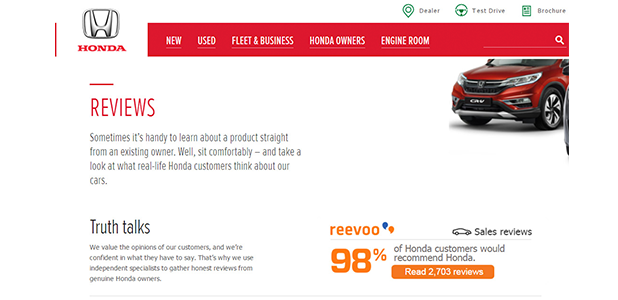 As well as the launch of the new 10th generation Civic, a number of dealerships have refurbished their showrooms over the past 12 months, transforming themselves into state-of-the-art retail stores. This has provided buyers with more room to view the vehicles on display and offer a more sophisticated customer experience.
Phil Webb, head of cars at Honda UK, said: "We're thrilled that our dealers' commitment has been reflected with these positives scores. It is testament to the hard work they put in to provide excellent customer satisfaction. Honda prides itself on its relationships with customers, whether they've owned a Honda for years, or are looking to buy their very first one. Our aim is to always provide a positive and enjoyable buying experience, so we are proud that our dealers have had this acknowledged by their customers."