New research from LV= General Insurance, the UK's third largest car insurer, has found that over half (53%*) of newly qualified drivers – almost two million people – say the current hazard perception test is out of date and is in need of modernisation.
The current test contains hazards such as cyclists, cars turning ahead and horse riders, but new drivers told LV= that a number of 'modern' risks weren't included. For example, the most common 'modern' hazards include potholes (reported by 41%* of new drivers), pedestrians on mobile phones (reported by 33%*), children on scooters (reported by 21%*) and even vape clouds from vehicle windows (reported by 11%*). One in six (16%*) new drivers say they find it difficult to spot these 'modern' hazards.
Worryingly, nearly half (47%*) of new drivers say the hazard perception test didn't prepare them for life on the road, and a further 57% *said they don't believe other new drivers are prepared to deal with the driving hazards they face.
The hazard perception test was introduced in 2002 and since then, the hazard content has not been updated. Yet, more than half (54%*) of all drivers say that hazards on our roads have changed and there are now more of them than when they started driving.
As a result of these findings, LV= is calling on the Government to update the hazard perception test, so that newly qualified drivers are better prepared for today's roads.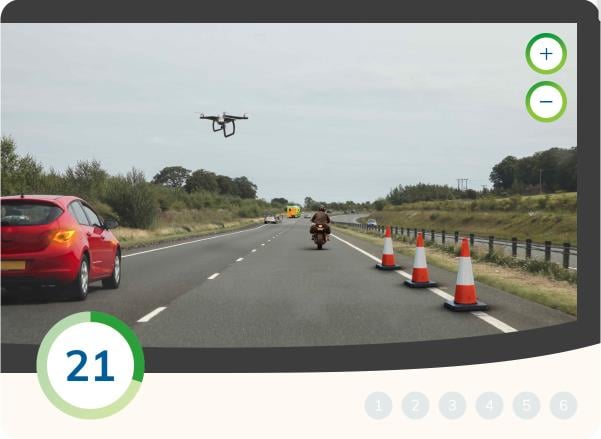 Heather Smith, Managing Director of the LV= Direct business said: "Driving conditions have changed a lot since the hazard perception test was launched 16 years ago. New drivers told us that the hazards they experience aren't featured in the test, contributing to them being unprepared for today's roads. We believe that all drivers should feel confident on the road, which is why we are calling on the Government to update the current test. It's also the reason why we launched our multi-car insurance product this year, helping to ensure that drivers of all ages and levels of experience have the protection they need."
The Royal Society for the Prevention of Accidents (RoSPA) supports LV='s call. Kevin Clinton, Head of Road Safety at RoSPA, added: "In recent years, more accidents have occurred due to 'modern' driving hazards. For example, year-on-year we have seen an increase in the number of incidents due to potholes. Our advice to new drivers is to expect the unexpected. That's why we are supporting LV's call to make sure the hazard perception test is kept relevant so it better-prepares new drivers for the hazards they'll face."
Top 10 hazards that aren't in the test, according to new drivers
 1. Children playing near roads
 2. Potholes
 3. Pedestrians crossing the road while on a mobile phone
 4. Pedestrians crossing the road with headphones in
 5. Children on scooters
 6. Dedicated cycle lanes
 7. Mobility scooters
 8. Couriers
 9. Vape clouds from vehicle windows
10. Low flying drones
To help drivers identify new road hazards, LV= has developed a hazard perception test that includes modern hazards found in the research. To take the test and find out more about LV='s multi-car insurance deals, visit https://www.lv.com/car-insurance/multi-car-insurance/hazard-perception-test.