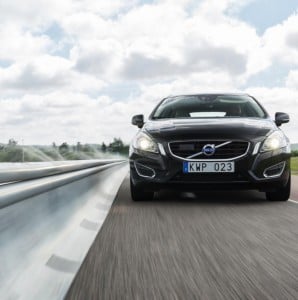 CLASS: Barrier detection a world-first
Several world-class, ground-breaking safety and support technologies will be a highlight of the all-new XC90, Volvo have revealed.
Released at the end of 2014, the vehicle will be the first in the world with in-darkness pedestrian, road edge and barrier detection.
It will also be the first Volvo to offer autonomous steering.
Thomas Broberg, Senior Safety Advisor at Volvo Car Group, said: "When the first XC90 was introduced in 2002, it featured a number of ground-breaking safety features, including a world-first solution that helps prevent rollovers.
"By revealing a number of systems for the next generation XC90 we once again confirm our leadership in automotive safety."
Pedestrian detection in darkness will make recognition and auto-brake technology work effectively when driving at night.
The technology includes detection and auto-brake for other vehicles, pedestrians and cyclists.
Road edge and barrier detection with steer assist is a feature that detects if the car is about to drive off the road.
In response, the vehicle autonomously applies steering torque to bring the vehicle back on track – even working on roads without side markings.
Finally, adaptive cruise control with steer assist helps the driver stay in lane and follow the rhythm of the traffic, automatically following the vehicle ahead.
Mr Broberg added: "Our approach is based on autonomously driven cars being able to move safely in environments with non-autonomous vehicles and unprotected road users."
Volvo are developing several further world-first advancements which they intend to wheel out over the coming years.
Animal detection – collision mitigation for animals – detects and automatically brakes for animals in daylight and dark.
This technology will be introduced after the XC90 arrives by the end of 2014.
Volvo are also working on autonomous parking, a concept technology that allows a car to find and park in a vacant space by itself.
This means the driver can leave the vehicle at the car park's entrance, with the vehicle driving with detection and auto-brake for other objects.