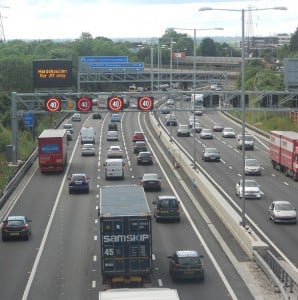 DITCHED: 80mph speed limit plans a no-go
Plans to raise the motorway speed limit from 70mph to 80mph look set to be dropped by the government.
Transport Secretary Patrick McLoughlin appears to have reversed the position of his predecessor Phillip Hammond, who claimed a 10mph rise would greatly boost the economy.
Despite being announced to huge publicity in 2011, Mr McLoughlin told Saturday's Times that the plans are no longer on the Conservative to-do list.
"That's not a priority to be absolutely honest," he said.
"You would have to do trials in certain areas so it's not something that's a high priority."
A source close to Mr McLoughlin confirmed any change is looking unlikely, despite Roads Minister Stephen Hammond claiming last week the plan was still alive.
"This is not going to happen," they told the Times.
"Safety is paramount to him and his view of how to run the roads and he would not be confident about how you would do it."
Although the apparent reversal may disappoint many drivers who backed the rise, the 'No to 80' coalition are likely to be delighted by the news.
Road safety charity Brake, a coalition member, said: "The evidence is there that 80mph limits would mean more violent deaths and injuries, so even a trial could lead to more families suffering the horror of a serious crash.
"Going ahead with trials would be a waste of money, given the weight of evidence that 80mph motorways would not deliver the benefits the previous Transport Secretary expected, and would instead mean increased casualties, costs and carbon emissions."
Image courtesy of Highways Agency, with thanks.