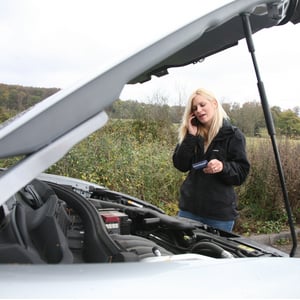 Fleet managers have an ever-growing list of tasks they have to juggle each day. With high targets to meet and increasing cost pressures, vehicle maintenance can often drop to the bottom of the daily to do list and become a more ad-hoc process.
But for fleet managers, the health of a vehicle can have a direct impact on key KPIs, from cutting down fuel wastage to increasing job completion rates.
Maintenance costs correlate with mileage rather than the age of the registration plate. Research from the International City/County Management Association highlights that maintenance costs will start to shoot up once a vehicle clocks up more than 20,000 miles. With this in mind, it's recommended to track each vehicle's health individually rather than booking in maintenance checks for the fleet as a whole – even if the vehicles have been bought at the same time.
Putting safety on the line
The ultimate cost for neglecting vehicle maintenance is driver safety. Bald tyres, worn-out brakes, decaying tie rods and failing engines can have devastating consequences – for your drivers as well as other people on the road. The Department of Transport has revealed that nearly 1,800 people were killed in collisions last year, up 4% from 2015. Despite the strict safety regulations across Europe, 40% of road deaths are work related. Drivers are required by law to perform a daily safety check of their vehicle, so feeding insights from these checks can be an effective starting point for a maintenance programme.
Managing rising costs
By running the necessary checks regularly, fleet managers can ultimately increase a vehicle's lifespan and reduce costs. Ignoring vehicle maintenance has its consequences and will ultimately cost businesses more in the long run if fleet managers fail to stay on top of checks. For example, if vehicles are running ineffectively, fuel wastage and overheads can also steadily rise. Confused.com recently released research showing petrol and diesel prices have risen by 7p per litre in the last year, so making sure vehicles run efficiently is more important than ever before
Avoiding simple check-ups can be costly from a compliance perspective. For example, driving with tyres below the legal tread limit of 1.6mm can potentially expose drivers to a £2500 fine. This unwanted added cost can simply be avoided through an effective vehicle maintenance programme.
Falling productivity
Taking vehicles out of service is never ideal, but with the Christmas season and Black Friday just around the corner, fleet managers cannot afford unexpected downtime. In that regard, prevention is certainly better than a cure. By staying on top of vehicle maintenance, fleet managers schedule in health-checks at the best time, rather than running repairs on a faulty vehicle during crucial and busy delivery periods.
Staying on top of vehicle maintenance
By using a fleet management system, businesses can stay on top of vehicle health and receive pre-emptive maintenance alerts. These services can track key indicators such as engine-on time and mileage, and determine the type of service a vehicle may need. Once a vehicle hits a point where maintenance might need to be checked, an automatic email is issued or an alert will come up in the reporting suite. Fleet management systems can also use insights gleaned from drivers' daily vehicle checks to help managers keep on top of potential maintenance issues.
By taking extra care of the fleet, vehicles will run more efficiently and have a smaller environmental footprint. It also decreases the likelihood that vehicles will need to be taken of the road for unscheduled repairs – reducing the risk of an LCV malfunctioning out on a job and boosting safety.
Reported by Paul Miller Product Manager, Fleetmatics edited by Kyle Lindsay