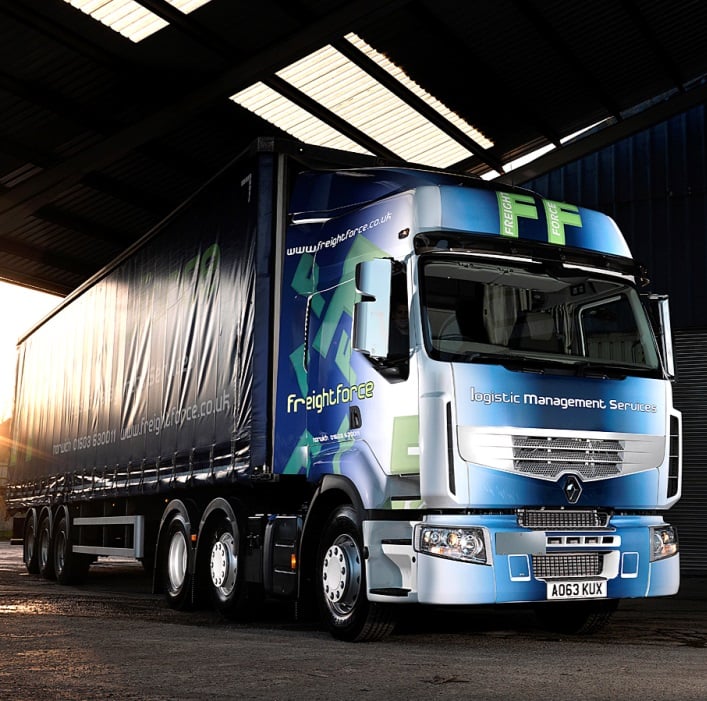 FLEXIBLE: FreightForce hail Renault Premiums
Norwich-based transport company FreightForce Distribution are rolling out ten Renault Premium 460.25 6×2 tractor units.
Supplied by Norfolk Truck and Van Norwich, the Premiums repl­ace 2008-plate DAFs and Scanias, taking the number of Renault trucks on the 40-strong FreightForce fleet to 14.
The ten new Premiums join FreightForce's general haulage fleet, delivering flexible transportation throughout the UK and Europe.
Edward Miles, Managing Director of FreightForce, said: "The Premiums will replace DAFs and Scanias purchased at the front end of the recession when we took advantage of competitive packages offered by the truck manufacturers.
"Today our decision is based on whole life costs and our structured procurement process set out to identify the best end-to-end deal for our business.
"The Renault Premium came out top based on our key criteria of fuel economy, reliability and whole life cost."
Wrapped in FreightForce's striking blue and green livery, the ten new Premiums will be on a full repair and maintenance contract through Norfolk Truck and Van.
James Cooper, of Norfolk Truck and Van, added: "FreightForce is one of the leading transport companies in Norwich with a reputation for customer service and an eco-friendly operation, so we are delighted to see ten more Renault Premiums in their livery.
"They will also be the first company to evaluate our new Range T demonstrator."