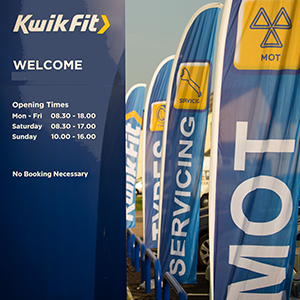 As March brings a peak month for MOT tests, a new study for Kwik Fit, the UK's leading automotive servicing and repair chain, has revealed that more than four million drivers admit that they have not got their car MOTed before the previous one expired.
The average length of time these motorists have driven without a valid MOT is 37 days.  While a third of those missing their MOT deadline got a valid certificate within three days, 4% of those driving without an MOT did so for more than ten months.  Cumulatively, British motorists have spent more than 422,200 years on the road without an MOT.
This month will see nearly half a million cars require their first MOT. In 2014, March was the month with the highest number of new registrations in 2014, with 464,824 cars hitting the road for the first time, and with those cars now turning three years old, they need an MOT for the first time.
Kwik Fit advises drivers with a "14" registration plate to check their date of first registration. The company's research shows that people missing the third year anniversary is one of the top ten reasons given by drivers for not having a valid MOT. Another common reason stated is that they could not get an MOT appointment in time.
Drivers can put their car through the MOT up to one month before their current MOT runs out while still keeping the same expiry date for the following year. This allows them more flexibility and enables car owners to plan better and not to have to scramble to find an appointment close to their deadline.
Londoners appear to have the most casual attitude to the MOT, with nearly a quarter (22%) of drivers in the capital admitting to have driven their car without a valid test certificate. Kwik Fit found that London drivers who have not renewed their MOT drive for nearly three months (88 days) on average before doing so. Drivers in the South West are the quickest to spot their mistake, with the average time driving without an MOT in that region just over 5 days.
Roger Griggs, communications director at Kwik Fit said: "Our research showed that drivers give many different reasons for not getting their car MOTed but the most common seems to be simply forgetfulness. The most worrying are those who knew their car would fail the test and so drove it until they got it fixed. But there are also those who felt that their car was safe and didn't need the MOT to prove it. The test is a crucial element in keeping our roads safe and can spot issues that might not be obvious to us in our day to day driving but could be significant in an emergency."
Kwik Fit carries out more MOTs than any other company in the UK, with more than 500 centres across the country, many open seven days a week. Drivers can find more information about the MOT process and book an appointment online at kwik-fit.com/mot. They can also sign up for an MOT reminder service