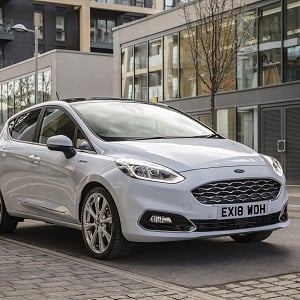 Ford is the clear leader in retail car sales, which most accurately reflect the preferences of private buyers. For April, Ford achieved 14.2 per cent of this market, which was 3.8 percentage points ahead of its nearest rival and, for the year to date, the lead is 6.0 percentage points.
Andy Barratt, Ford of Britain chairman and managing director, said: "We are continuing to build on our core strengths in the UK market; the successful all-new Fiesta is being joined by newest Active and ST versions. Kuga, and the much improved EcoSport, have both seen significant sales growth as customers continue to choose vehicles with higher ride height, more space and greater versatility.
"Ford also now has the freshest commercial vehicle line-up in the UK after we unveiled the all-new Fiesta Sport van at the CV show last month. Sitting alongside the new Transit Custom, Transit Connect and Transit Courier our latest Transit products are now equipped with more technology than ever before, including FordPass Connect with on-board modem."
The official figures released by the SMMT show that total car sales in April were up 10.4 per cent to 167,911 units, compared with April 2017. Ford car sales were 20,114, up 24.3 per cent and 5,507 registrations ahead of its nearest rival.
The Ford Fiesta remains the UK's best-seller with 7,811 registrations in April, 2,329 sales and 1.4 percentage points of share ahead of its nearest rival. The broad customer appeal of Ford's car range is demonstrated by Fiesta, Focus, C-MAX, EcoSport, Kuga and Galaxy all occupying top three places in their respective market segments in April and for the year to date.
UK commercial vehicle sales in April were up 3.9 per cent at 23,501 registrations compared with April 2017. Total sales of Ford CVs were up 16.0 per cent at 7,985, compared with April 2017, more than double the sales volume of its nearest rival.
Ford CV market share increased from 29.5 per cent to 33.0 per cent in April, led by strong sales of the Transit Custom and the Ford Ranger, which defied the decline in the pickup market with a sales increase of 23.0 per cent.
The full availability of Ford's extended CV family has helped deliver these significant increases in sales and share. Transit Courier, Transit Connect, Transit Custom, Transit and Ranger all lead in their respective market segments.