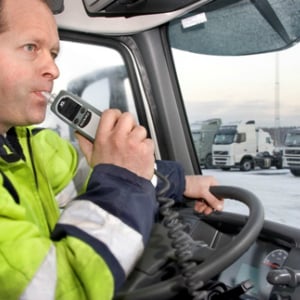 The Government published report found that alcohol is the biggest recorded impairment to driving, however there are less obvious causes of impairment that drivers might not even be aware of. The study found that alcohol/drugs, fatigue, uncorrected eyesight and mental or physical disability are the major risks to our safety on the road.
The Fit To Drive Report published by the Parliamentary Advisory Council for Transport Safety (PACTS), that examines the law as it stands, factors affecting fitness, and gaps that need to be addressed.
As alcohol was found to be the greatest problem area, the report's authors say that lowering the legal limit to 50mg/100ml could save an estimated 25 lives and 95 serious injuries annually while they add that higher rates of enforcement would provide more of a deterrent.
They also say that fleets "should follow the lead of National Express buses and install alcolocks" and that such devices should be used in the rehabilitation of previous drink-drive offenders.
The report goes on to say: "There are particular responsibilities for employers in ensuring the fitness of their employees to drive, and HSE needs to take a far more active role here. Currently no central government agency or department is taking responsibility in this crucial area."
The area of drug driving also comes under focus and the report finds that incidence of illicit drugs in both fatal and non-fatal crashes is around 6%. It also says that despite the implementation of a new drug driving law, the difficulty of detecting drivers under the influence of drugs at the roadside reduces the efficacy of the law. At present only two out of the 16 proscribed drugs have devices Type Approved for roadside detection.
The issue of driver fatigue is also covered with the report outlining that it is now widely accepted that fatigue is a major contributory factor particularly in the early hours of the morning and on long distance journeys on major roads or motorways.
Recommendations include the long-advised break every 2 hours, short naps (no more than 20 mins) and caffeine, It goes on to suggest that Highways England and other strategic road authorities should consider design treatments that can break up the monotony of long-distance driving. The report reminds us that drivers with ongoing sleep problems such as sleep apnoea should inform the DVLA and their employers and cease driving until they have received treatment.
Eyesight issues and mental or physical illness or disability are also covered in the report.
"There is a fundamental expectation that drivers should be fit to do so," said Professor Oliver Carsten, lead author of the report. "Short-term factors based on personal behaviour such as alcohol and drug use are widely known to affect fitness to drive. However, there are long-term factors such as physical or cognitive impairment that account for 6% of all fatal crashes, while fatigue is a factor in 3%."
David Davies, executive director of PACTS, added: "The Government has recently published its road safety statement reaffirming its aims to reduce death and injury on the road. This report highlights where improvements are to be made and we hope that all relevant departments and agencies collaborate to act on its recommendations."
To download a copy of the report, click here.