Currently commencing its 150th year in business, John Mackirdy Ltd of Rothesay, Isle of Bute is reporting first class performance levels from a new Volvo FM rigid engaged in animal feed deliveries.
"Our latest Volvo FM rigid went into service last October. It has proved totally reliable and very good on fuel too," declares John Mackirdy, Managing Director at John Mackirdy Ltd. "The FM is returning over 8.6mpg on challenging island roads, carrying out farm deliveries. The new truck is proving more economical than the previous vehicle," John adds.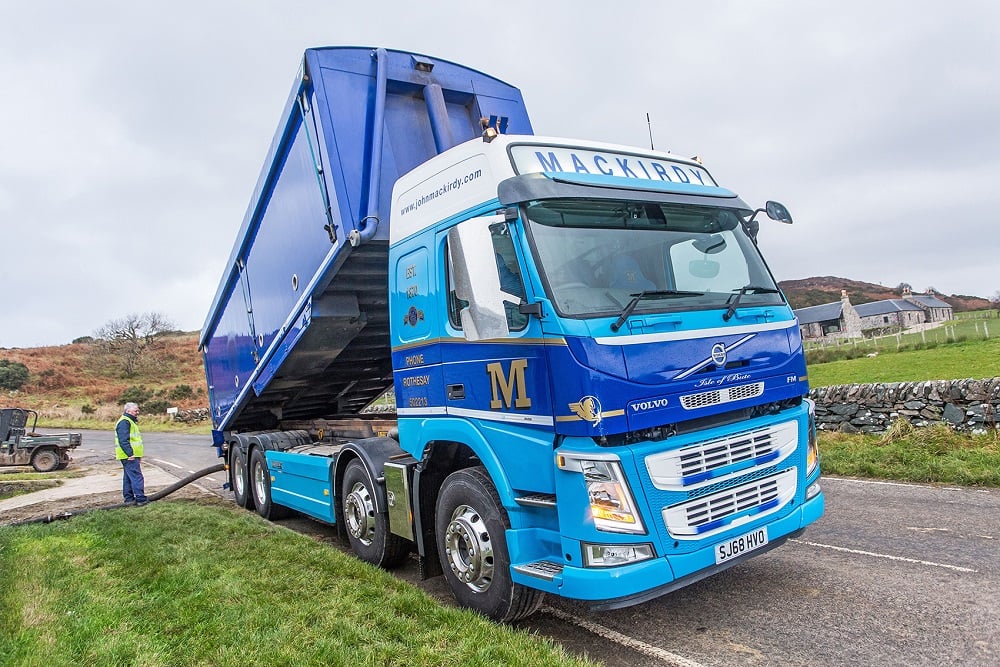 Supplied by Robert Auld, Transport Solutions Executive at Volvo Truck and Bus Centre North & Scotland, the 5.6m wheelbase 8×4 FM is powered by a 410hp D11K engine. The I-Shift gearbox drives tandem single reduction axles with a final drive ratio of 3.09:1. "The I-Shift gearbox has been a revelation. I picked the truck up from bodybuilders Muldoon Transport Systems in Dungannon, County Tyrone and then drove it home empty. During that run I was perhaps a little nonplussed about the gearbox, until I drove the FM fully loaded. Then the I-Shift's performance was exceptional and I was amazed at how well set up the system is," John recalls.
The all round steel suspension FM chassis is fitted with a four compartment Muldoon Transport Systems tipping body, equipped with bulk blowing equipment for animal feed deliveries.
The FM rigid has a payload of 18 tonnes and was ordered with a Globetrotter Cab featuring a One Bed Resting package. The truck will be serviced at Volvo Truck and Bus Centre North & Scotland's Glasgow West dealerpoint, whilst its six weekly inspections will be carried out in-house at John Mackirdy Ltd's workshop.
John Continues, "We intend to retain the Volvo FM for ten years, it's just too good to sell after five. The truck will complement our pair of tri-axle bulk artic trailers that are used on animal feed deliveries for several Scottish islands. We collect the feedstuffs from mainland producers or King George VI docks in Glasgow and then distribute as required. We've used Volvo trucks since 1974, when my Father took delivery of a F86 4×2 tractor unit. We still have a 20-year-old Volvo FLC 7.5 tonner on the fleet for local deliveries.
Still family owned and operated, John Mackirdy Ltd is now managed by fourth generation, John Mackirdy with his wife, Elaine and son, Jack. All three are HGV licence holders and regularly drive vehicles to maintain face-to-face contact with the company's varied customer base. This multiple award-winning business supplies general haulage, temperature controlled distribution services and third party maintenance facilities, in addition to its animal feed supply networks.