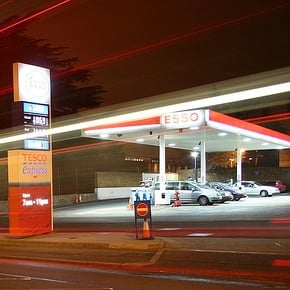 POINTS: Esso team with Tesco Clubcard
Drivers can now earn Tesco Clubcard points on petrol and diesel purchases at more than 800 Esso service stations nationwide.
The initiative follows a successful trial, which saw Clubcard points offered for the first time for fuel at around 200 Esso Tesco Alliance service stations.
It has now been extended to include all service stations operated directly by Esso, totalling more than 270.
Increasing numbers of Esso sites operated by independent dealers have also joined the scheme – to date they number more than 300.
Simon Herbert, Director of Esso Petroleum Company Limited, said: "Our customers responded very favourably in February when we began offering Clubcard points at our Esso Tesco Alliance service stations.
"We're delighted with the response and equally pleased now to be able to offer Clubcard points across our wider Esso service station network.
"Esso fuels are renowned for their quality and value and Clubcard points offer drivers even greater incentive to fill up at Esso."
Katie McQuaid, UK Clubcard Director at Tesco, added: "We're really pleased to extend our new partnership with Esso, as customers can now earn Clubcard points on even more of their everyday spend.
"We have had some great feedback since we began offering Clubcard points at Esso Tesco Alliance service stations in February, and we're delighted that Clubcard is now available to so many Esso customers across the UK."
Image courtesy of silverfox09, with thanks.