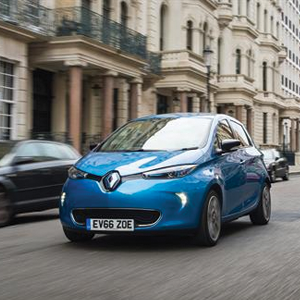 The game-changing range of the all-electric Renault ZOE has contributed to the stylish supermini being voted the 'Electric Car of the Year' at the inaugural Company Car Today Awards, which were held today at a ceremony in London.
The award recognises that the Renault ZOE, with its ultra-low running costs and impressive range of up to 250 miles (NEDC), represents an unbeatable proposition for business users searching for a compact car that will be both exceptionally efficient and usable.
After judging the ZOE on a whole host of criteria — including emissions, running costs, price, performance and desirability— the Company Car Today judges praised the five-door supermini for its refinement and how its class-leading range opens up the financial and environmental benefits of an electric vehicle to a wider spectrum of business users.
On the decision to award the highly-coveted 'Electric Car of the Year' award to the Renault ZOE, Paul Barker, Creator and Editor, Company Car Today, said: "The Renault ZOE, especially with its enhanced range, has proven that full electric cars can be a practical, cost-efficient and good-looking company car. The ZOE is, and continues to be, a pioneer of what is still a fledgling technology, but one to which more and more fleets are switching into the benefits."
Vincent Tourette, Managing Director, Groupe Renault UK, said of the award: "We are delighted to win 'Electric Car of the Year', in Company Car Today's inaugural awards, showing that ZOE is not only a great retail proposition but also a fantastic business one. Increasing ZOE's range to 250 miles (NEDC) has made it a much more viable alternative to fossil fuelled cars with all the usual benefits of an EV such as zero tailpipe emissions, silent operation, smooth and relaxing drive, as well as low running and taxation costs."
The Renault ZOE is an all-electric, five-door supermini available in a choice of three trim levels and with two battery options. Despite its affordability, the entry level Expression Nav comes with a high level of standard specification, including items such as climate control and the 7-inch touch screen R-Link 2 infotainment system with sat nav. In Dynamique Nav, features include hands free keycard, automatic lights and wipers and rear parking sensors. The new top-of-the-range Signature Nav trim provides buyers with features including supple leather upholstery, a seven-speaker BOSE® audio system, heated front seats and a rear-parking camera.
Since launch in the UK in 2013, Renault has almost doubled the ZOE's range from 130 miles (NEDC) to 250 miles (NEDC) thanks to technological advancements such as an increased battery capacity and more efficient motor.
With the Z.E.40 battery, ZOE's range is 250 miles (NEDC) – Renault estimates that in real-world driving conditions that this equates to around 186 miles in summer and 124 miles in cold winter conditions. ZOE can charge from zero to 80 per cent full in as little as 60 minutes thanks to its patented Chameleon Charger™ that allows it to make the most of the widest range of power supplies and also keep charging times to a minimum. Renault's Range OptimiZer technology ensures ZOE is highly efficient with its heat pump, a bi-modal braking system and Michelin ENERGY E-V tyres.
ZOE is available to purchase in two ways. Firstly, under a battery hire scheme, where ZOE pricing starts at £14,245 (OTR) after the Government Plug-in Car Grant with battery leasing from £49 per month. Introduced in 2017 was the 'Unlimited' option with no mileage cap, priced at £110 per month. It is easy to purchase a used ZOE with a battery lease – the new owner simply chooses which leasing option suits their needs the best and starts monthly payments based on their lease plan. You can also buy the ZOE outright. ZOE i 'full purchase' models start from £18,995 (OTR) after the Government Plug-in Car Grant, giving the buyer full ownership of the car and battery and no monthly battery lease payment.
ZOE is the best-selling electric car in Europe and more than 6,000 ZOE have been sold since launching in the UK in 2013. ZOE is one of three models in Renault's diverse electric vehicle range which also includes the Twizy quadricycle, the Kangoo Van Z.E., Europe's best selling electric van, and the forthcoming Master Z.E. large panel van.