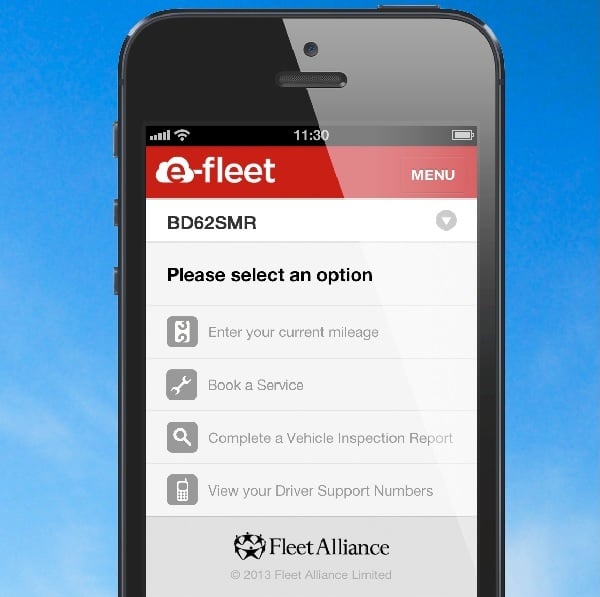 APP: A new addition to the smartphone world
Leasing and fleet management specialist Fleet Alliance are launching e-fleet mobile, a new app for company car and business drivers.
The app allows users to more easily access key support services, update business and private mileage and electronically complete vehicle inspection reports.
It is the latest enhancement to Fleet Alliance's e-fleet management system, which can handle the administration of fleets from five cars to more than 5,000.
As well as enhancing service levels to business drivers, e-fleet mobile also provides operators with improved mileage management and recording, closer control over vehicle servicing and the meeting of duty of care requirements.
The new web app is fully compatible with the latest iPhone, Android and Blackberry hand-held devices and integrates with Fleet Alliance's online e-fleet fleet management system.
Martin Brown, Managing Director at Fleet Alliance, said: "Our new e-fleet mobile web app makes use of the latest smart phone technology to provide company car and business drivers with enhanced functionality and remote access to the key services they need to ensure their vehicles continue to operate effectively.
"This allows them to access a variety of support services at the touch of a button, update mileage records remotely and electronically and confirm they are compliant with duty of care requirements.
"This development in turn helps the fleet manager run the fleet more effectively than before in a number of key business driver contact areas through the more effective recording of vital driver information."
e-fleet mobile is registration number-specific, providing drivers with all the main contact numbers and access points for their individual car – including tyres, automotive glass, servicing, maintenance and breakdown and recovery.
Dedicated suppliers can be contacted at the push of a button, without the need to refer to several sets of different servicing, maintenance and repair instructions.
Drivers are also able to book their next service directly through the app with nominated dealerships and independent garages.
They update their mileage records through the app which feeds directly into the e-fleet fleet management system, allowing fleet managers to monitor accumulating mileages more effectively.
Fleet Alliance manage more than 10,000 vehicles on behalf of corporate clients.