There are plenty of electric vehicle (EV) charging companies in the market today; all with their own unique selling point. As the number of EVs rise, charging infrastructure must develop in parallel to support this growing demand. Ultimately, without an appropriate charging infrastructure, this change cannot be realised.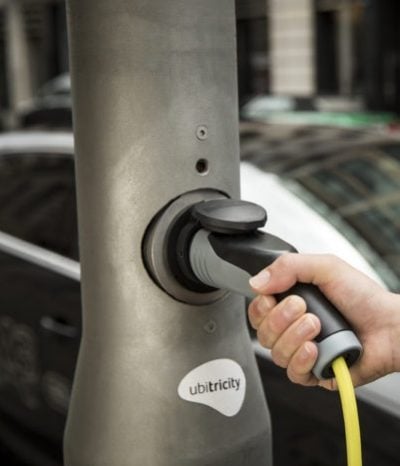 There is no silver bullet for the main EV challenges experienced today, from range anxiety to charging times, but there are new innovations that will further benefit EV owners and encourage consumers to go electric.
With approximately 1.5 times as many charging points needed per EV, conventional charging is no longer enough. However, as EVs can be charged wherever they are parked, Ubitricity has an ideal solution. One that doesn't break the bank and take up valuable space.
Introducing ubiCharge, a clever charging system integrated into lampposts that provide a new alternative to cumbersome charging stations. By saving space, Ubitricity is able to install these systems much easier, in new or old lampposts on the side of the street. This also allows the company to use the existing infrastructure to roll out effectively as demand for EVs continues to grow.
Ubitricity CEO, Lex Hartman, discusses the advantages of lamppost charging and the evolution of the EV sector across the continent.
"The intelligence is in the car, not the socket, which makes the product very simple; because of this, it is able to fit inside a lamppost," he says. "This not only makes the installation process easier but also means it is far cheaper than alternative charging stations. It also allows us to integrate our charging technology into existing lampposts as the EV adoption rates continue to rise."
The tipping point for EVs is now, but it is currently a chicken and egg scenario where consumers are afraid to buy an EV due to the lack of charging points and charging infrastructure companies do not want to build more than they have to until they see a rise in EV ownership. However, with compact charging solutions like this, there are no huge overheads for companies like Ubitricity to worry about and infrastructure can be rolled out as needed, much quicker than other charging stations.
Work Smarter, Not Harder
Playing devil's advocate, there will be plenty of people who believe that a lamppost cannot provide the same charging capabilities as one of the larger conventional EV chargers. With less power, you get less results, right? Well, quite the opposite.
It is more about the psychology of EV charging, as you do not have to be present at the charging station in the same way you would be for filling up your petrol or diesel vehicle. It is easy to see why people think huge generators on the side of every street would assure potential EV buyers that there is enough supporting infrastructure, but it is about being smarter than flooding streets with large charging units.
"There will be millions of EVs in the future. The bulk of concerns for EVs are coming from people who do not own one, making it difficult for them to imagine what they want or need," says Hartman.
In cities, people only use their vehicles a few times a day, usually for short commutes to work and back. This means that there is little need for something like fast charging, as the vehicle will be on standby for 90% of the day.
"At the very most, you will need four hours of charging, which means that normal charging is enough to get you the energy that you need for a number of days. In this case, you definitely don't need fast charging."
Above all else, this innovation is for people who do not have their own driveway or are able to charge exclusively at their workplace; which is most city dwellers. Ubitricity's compact charging solution allows charging from the front of people's properties, even if they do not have access to a driveway. It is about the application of charging, rather than the performance itself.
"When you look at city transportation, you will struggle to find an efficient use case for fast-charging," adds Hartman. "It just isn't worth it, unless you drive over 150 miles, which most people will do two or three times a year. Quite simply, 'normal' charging is absolutely enough."
Through the approach of plugging in your car when parked, the process will become obsolete as there is no need to wait for the EV to charge. You carry on your day, whether that is shopping, working or sleeping, and return to a fully-charged car.
One Ecosystem for All 
There are hundreds of charging companies around the world, as everyone tries to get a piece of the growing market. Despite this providing more charging support for the consumer and promoting EV ownership, this may make things more difficult by creating what many now call the 'EV turf war.'
However, Hartman believes that this doesn't have to be the case, with Ubitricity encouraging a 'one ecosystem for all' approach that will benefit both businesses and consumers going forward.
"No one will drive around with two different cables and multiple payment cards to charge their car," he says. "We should follow the same approach as mobile networks when you travel abroad; once you get off the plane, your phone automatically connects to a new provider, keeping you connected wherever you are."
This is how it will look like in the future, with one big ecosystem for EV charging where everyone works together. This will make the overall experience better for consumers, as flexibility will be crucial in the development of EV ownership. In addition to this, new apps will allow people to be smarter with their charging, setting departure times from their charge points, which will help lower costs and control energy distribution better.
Even if EVs only take up 10% of vehicles in a city to start with, you will still need hundreds of thousands of charge points. The growth will have to be supported with a charging infrastructure that rolls out in parallel.
Whether it is London, France or Berlin, there are many lampposts ready to be transformed into EV charging stations. It is by far the easiest, most straightforward solution to the immediate problems  faced today.
Ubitricity is aiming to reach 200,000 charging stations by 2025 to support this growth and help cities transform into cleaner, smarter and safer urban ecosystems. Europe is finally ready for the "EV-olution."
Electric driving is no longer for 'first movers' or early adopters; it has become an economic solution," says Hartman. "Products have matured, with a full range of cars and variants on sale today, and politicians are now stumbling over each other in to promote EVs. By 2030, you will see very different cities."