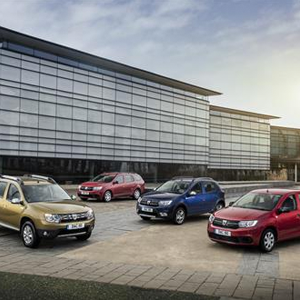 Dacia has been rated the number one car brand for value by 10,000 car owners surveyed by Auto Trader as part of research for its New Car Awards 2017.
The no-nonsense car brand beat 29 other manufacturers to take top spot in the value category. The recently refreshed Dacia Duster was also rated the fifth best model for cost of servicing and repairs out of 97 other models reviewed.
As part of the survey to identify its award winners, Auto Trader asked car owners about other aspects of car ownership such as; running costs, handling, reliability, practicality, performance, equipment, interior and safety.
Commenting on the latest owner accolade, Louise O' Sullivan, Head of Dacia UK, said: "I'm delighted that Dacia has been rated number one for value by UK car buyers. The Dacia range offers UK drivers the most affordable new cars on the market and a rapidly growing number of them are drawn to the brand because we keep things simple and offer cars we know our customers want."
Speaking on the results from the survey, Ian Plummer, Director of Manufacturer & Agency at Auto Trader, said: "Auto Trader's 2017 New Car Awards relied on the genuine feedback of over 10,000 car owners, highlighting the brands and models that are truly admired by their owners."
"The Awards research revealed a big vote of confidence from Dacia owners when considering value for money with their recent car purchase, ranking Dacia top for value when considering all new models offered by brands in the UK."
Dacia cars continue to be some of the most affordable cars in their respective segments with the Sandero still Britain's lowest priced new car at £5,995. Since launching in the UK in early 2013, Dacia has sold more than 100,000 cars in the UK and picked up a host of awards and owner accolades in just over four years.