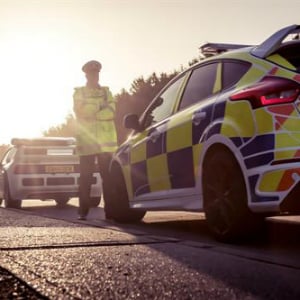 The world's most exclusive 'police-car' – based on the multi-award-winning Ford Focus RS – has been on test with police forces across the UK. The £31,250, four-wheel-drive, front-engined hyper hatch reaches 60mph from a standing start in under five seconds.
This special version of the Focus RS – on trial exactly 30 years after a Ford RS200 police car was put to the test – could be voted a 'stunning hit' by expert traffic policemen lucky enough to get behind the wheel, and is sure to intimidate would-be speeders.
Powered by a 2.3-litre turbocharged, 16-valve, four-cylinder Ford EcoBoost engine, the Focus RS develops 345bhp in standard road-going form – meaning that even the fastest Ford RS models of 30 years ago are no match for the Ford RS police cars of today. Watch The Video  Here.
The body was designed by Ford of Europe Design's Ernesto Rupar, while the mechanical design and development was the responsibility of Ford Performance's chief engineer, Tyrone Johnson. The Focus RS has won a host of awards since its launch, including Top Gear Magazine's Car of the Year 2016.
Law-breakers would be relieved to learn that, due to limited production numbers, Ford does not expect many police forces to offer a patrol car capable of catching anything on the road. "But until they have tried it we won't know whether it meets any specialist need", said Terry Adams, Ford's police sales manager.
Most forces will continue to rely on the standard Ford Focus and Ford's biggest-selling police vehicle, the Transit Custom, for patrol duties. Ford supplies more than 1,500 vehicles to Britain's police forces across the country, including the Ford Kuga and Ford Ranger in rural areas.
Unlike the RS200, the Focus RS includes most practicalities expected of a police patrol car, including rear doors for suspected criminal accommodation and a boot large enough for traffic cones.