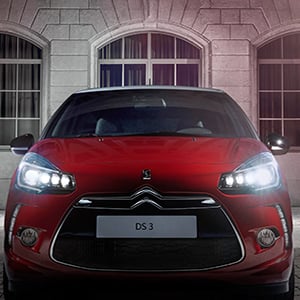 UPDATED: New Citroen DS3
Citroen have revealed refinements to their DS3 and DS3 Cabrio ranges.
Selected versions will be updated with a new light signature, new engines and additional technology features.
From July, all DS3 and DS3 Cabrio DSport versions will feature state-of-the-art headlights which combine LED and Xenon modules with new sequential indicators.
The lights offer improved efficiency, with energy consumption 35% lower in dipped mode and 75% lower in high-beam mode, while the LEDs last up to 20 times longer than halogen lights.
Also from July, selected versions of DS3 will be available with the choice of a laser-etched dashboard strip and a screen-printed rear window.
Colour options have also been enhanced, with the addition of Pearl White as a body colour on both models, with Belle-Ile Blue also introduced on DS3 Cabrio.
The DS3 gains availability of new visually-striking 17inch diamond-cut alloy wheels on selected models.
DS3 and DS3 Cabrio will also enjoy new Euro VI-compliant diesel and petrol engines.
Two new diesels will become available: the BlueHDi 120 and BlueHDi 100.
Both engines will offer more power and up to 4% lower CO2 emissions.
The BlueHDi 100 will be class-leading in terms of emissions, producing just 79g/km of CO2, with the BlueHDi 120 emitting 94g/km of CO2.
Both engines also improve fuel efficiency, boasting figures of up to 94mpg for the BlueHDi 100 and up to 78mpg for the BlueHDi 120 version.
Finally, selected DS3 and DS3 Cabrio models will be available with Active City Brake, which helps prevent low-speed collisions.