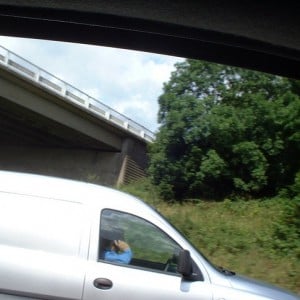 SACKED: In-car cameras catching offenders
Dangerous and careless fleet drivers should think twice about tailgating and telephoning at the wheel, PoliceWitness.com have insisted – as it could cost them their job.
Thousands of cyclists and motorists are now utilising on-helmet or in-car recording devices and reporting incidents of reckless driving to PoliceWitness.com.
Dave Sherry, a 36-year-old cyclist from Harlow, is one such road-user who has helped remove a dangerous driver from the road.
When Mr Sherry was approaching the Waterworks Roundabout on the A406 in Woodford, London, he noticed a flat-bed recovery truck swaying in the lane ahead.
As he cycled up next to him, Mr Sherry saw that the driver was on his phone.
While the police took no further action against the driver, the trucker's employer did.
Writing to Mr Sherry, the manager of the recovery firm said the incident was 'totally unacceptable', and had relieved the driver of his duties with immediate effect.
Mr Sherry said: "I decided to purchase a camera for my helmet as I have been involved in incidents ranging from the very minor such as cars passing too close, to a vicious attack where I was punched to the ground by a road rage-fuelled motorist."
The attack on Mr Sherry can be viewed below [WARNING: EXPLICIT CONTENT]

This case of dismissal is by no means unique – last year Matt Stockdale, Chairman of PoliceWitness, videoed a bin lorry driver driving while on his mobile phone.
His employer, Northampton Borough Council, dismissed the driver when shown the footage.
Mr Stockdale added: "It is not about PoliceWitness members becoming vigilantes or taking the law into their own hands, but simply about helping to keep our roads safer for all of us during these times of austerity.
"We all feel that dangerous drivers should be held accountable for their actions, and this is one way to ensure that these people think twice about breaking the law – when a professional driver gets behind the wheel of a liveried vehicle and subsequently breaks the law or is discourteous towards other motorists, their employers are the first to hear about it.
"The dismissal of this recovery truck driver sends a powerful message to those who choose to put other people's lives at risk by using a mobile phone."
Image courtesy of Thirsk, with thanks.