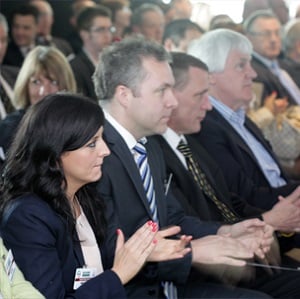 Collecting fleet and travel information and managing data is business-critical to introducing effective mobility management policies, and employers would be "mad" to have it contained within different silos.
That was one of the key messages from speakers at the 'Mobility Today' webinar hosted by ACFO, the UK's premier fleet decision-makers' organisation.
Mobility as a Service (MaaS) is seen by many experts as the future, but for organisations such as well-known energy drink supplier Red Bull UK and High Street fashion retailer Arcadia Group the journey is already under way.
Meanwhile, business mobility and fleet leasing specialist Alphabet (GB) Ltd, which sponsored the webinar, is already undertaking the journey from "full service leasing to full service mobility" via "a more comprehensive approach called mobility management" with David Bushnell, principal consultant, explaining: "Customers expect us to not only deliver leasing services as a one-stop shop, but also mobility services."
However, to enable that journey to take place, said David Oliver, ACFO member and procurement manager at Red Bull, it was "essential" to have access to "high quality and meaningful" information and data from partner companies – vehicle providers and travel management companies – for manipulation and analysis.
It is a view shared by John Pryor, ACFO chairman and fleet and travel manager at High Street fashion retailer Arcadia Group, who is focused on knowing the total cost of a journey not simply the headline cost of a rail ticket, flight or a car's pence per mile figure.
He said: "We have policies and processes in place, but true mobility management comes down to collecting data relating to: fleet and ground transportation, air, rail and hotel bookings and expenses payments – parking, tolls, subsistence plus individual items. All of that added together gives the business the total cost of a journey."
Mr Pryor highlighted that the introduction by Arcadia Group of an online expenses system – in addition to utilising a travel management company – was the key to implementing a mobility management solution as it replaced a paper-based system to provide improved data analysis.
He said: "Having access to all information is important, but companies keep it in different silos. If information is sitting in different parts of the business then it is unmanageable."
Mr Oliver, who is leading Red Bull UK's move to integrate fleet and travel management and manages the organisation's 220 company vehicles on four-year replacement cycles and 36 'grey fleet' units, said younger, city-based employees were helping to drive change.
Highlighting that such employees were big fans of the likes of Uber and Airbnb, Mr Oliver said: "That helps shape our thinking in providing services to them."
Revealing that there was employee concern over the increasing burden of company car benefit-in-kind taxation and questioning whether a four-year company car replacement cycle was a "handcuff" on the ability to change policies, Mr Oliver said: "We are being curious and understanding. Most organisations would be mad to keep fleet and travel expenditure apart."
Amid growing "noise" about the long-term necessity to supply cars to urban-based employees, he said: "Younger employees are questioning the need and cost of company cars. The business is also a big advocate of public transport and when used correctly it affords a safe and cost-effective service."
Red Bull UK already uses data to undertake "end-to-end trip analysis" on key routes with the support of its travel company "to see what we are doing; how much it is costing us: and then it is up to us to see if it fits our policies and optimise".
Whether or not 2019 will be the "breakthrough" year for mobility management expansion remains to be seen, but Mr Oliver said: "We want suppliers to have a clear plan and bring solutions to us and a range of options and price."
Alphabet (GB) Ltd has already launched a range of mobility solutions and Mr Bushnell said the company's vision was to "integrate all business travel requirements with technology and make use of that information to transform businesses".
Referring to engaging with employees to "switch" on to utilising a range of mobility solutions, he said: "We have been talking about mobility management for several years and we have made great progress, but it must be easy. If it makes it any more difficult than picking up a smartphone and pressing a few buttons then people will not adopt."
He continued: "It is absolutely critical for decision-makers to engage with all key stakeholders to ensure data is collected and leveraged.
"Traditional fleet managers must wear many hats and transition into a mobility manager outsourcing data and taking advantage of technology."
In shaping mobility management policies and procedures, Mr Oliver said it was vital to unite stakeholders – fleet, travel, HR, procurement, finance etc. – and, he added: "When opening people's horizons you are very unlikely to meet any resentment. It is also important to empower employees to make the right decision about how they travel from A to B."
Amid niche players promoting a range of apps and moving into a sector that has a range of vehicle leasing and travel management companies at its core, Mr Pryor said: "The move to mobility management will be demand led and the transition must be seamless.
"Ultimately, as a business, we do not mind how people get to their destination as long as we know the total cost of a journey and we believe the journey is undertaken safely and in the most cost-effective way."
The webinar is available as a download from the 'members' area' of the ACFO website – www.acfo.org.