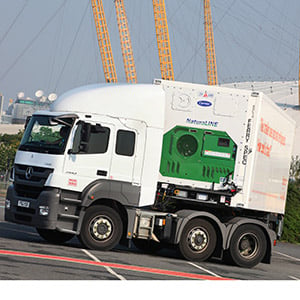 The world's first temperature-controlled trailer
A joint project with Sainsbury's to trial the world's first temperature-controlled CO₂ trailer impressed everyone at the Motor Transport Innovation Award.
With a fleet of nearly 4,000 vehicles – many of them temperature controlled – Sainsbury's set out to reduce its operational carbon emissions by 30% absolute and 65% relative by 2020 as part of its sustainability plan.
Hearing about Carrier Transicold's refrigeration system, Sainsbury's set their sights on being the first customer in the world to trial the innovation in a road-going application.
Labelled as 'a potential game changer' by the Motor Transport judging panel, the two-year project launched in August 2013 uses a modified version of Carrier Transicold's NaturaLINE™ refrigeration system, which was initially developed for ocean container shipping.
"Congratulations to Sainsbury's for taking a bold step forward to reduce its carbon footprint by successfully demonstrating the application of the NaturaLINE CO₂ refrigeration system for road use," said David Appel, president, Carrier Transicold & Refrigeration Systems. "The trial's success is great news for Sainsbury's and the environment."
The award was received at the Grosvenor House Hotel in London by Victor Calvo, managing director, Carrier Transicold EMEA; Justin Grace, managing director, Carrier Transicold northern Europe; and Nick Davies, head of transport operations, Sainsbury's.