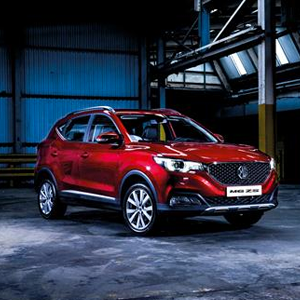 Engineers at MG Motor UK have worked tirelessly to engineer the game-changing MG ZS Compact-SUV for a British audience.
Completely reassessed and modified from the bottom-up, the dynamic ride, improved functionality and digital connectivity have been a key priority to ensure the MG ZS meets the sophisticated requirements of the UK market. Mature, refined and agile, the MG ZS is a car that has been developed by UK engineers, on UK roads for UK drivers.
Such attention to detail is shown in the introduction of key performance elements to the car. With three power-assisted steering modes on the Excite and Exclusive models – Urban, Normal and Dynamic – drivers can personalise the ride that is suited completely to their needs. Featuring characteristics that deliver a tangible difference in drive, the steering of MG ZS has been considered at every level to create a nimble and adaptive driving experience.
The Urban mode provides a lighter steering option that is designed for town-based journeys, parking and low-speed driving, while the Dynamic option allows the driver to do less to maximise vehicle performance, with an increased steering effort and higher damping effect to enhance the driver experience at higher speeds. The MG Normal mode creates a responsive drive that suits UK conditions and is completely in tune with suspension set-up and specific vehicle dynamics of the MG ZS.
The Normal mode demonstrates the fun, sportiness of the MG brand in everyday driving and has been tuned to deliver to the driver the most connectivity to the road in all conditions.
Engineers have also been able to reduce emissions and further improve ride dynamics by specifying exclusive 17" alloy wheels on the Excite and Exclusive models, which deliver an exceptional balance between ride comfort and dynamic performance. The UK-specific package of tyres, springs, dampers and the overall suspension has been tuned to suit UK driving styles and British roads, while maintaining an overall commitment to ride quality, handling balance and increased agility.
Chief Engineer on the project at MG Motor UK, Richard Batho, commented: "The MG ZS is mature, refined and agile. We have taken great pride in evolving this car, creating a model that suits the needs of UK drivers. We are particularly proud of the drive and quality of the MG ZS; we believe we've created a package that is a step up from anything we've produced before and incredibly competitive in the Compact-SUV space."
He continued: "With the MG ZS, we are showing the world what MG is capable of, making a clear statement of intent about our future engineering journey and confirming our commitment to creating stylish, high quality cars that are enjoyable to drive and exceptional value for money."
Fitted with a 1.5 DOHC VTI-tech, four-cylinder engine with smooth and responsive five-speed manual gearbox, or a 1.0 GDI turbocharged, three-cylinder, automatic version, the MG ZS offers a dynamic driving experience. The five-speed manual gearbox provides seamless transitions and smooth handling, while the six-speed automatic variant is designed to further increase driveability.