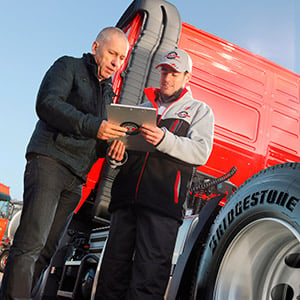 New Health & Safety film for Tyre Industry
Bridgestone have provided an informative safety video for the tyre industry, continuing its pledge to improve health and safety standards amongst UK commercial tyre fitters.
Having experience in providing training courses in this sphere, Bridgestone hopes the roadside safety video
will be of additional value to all independent tyre service providers.
The breakdown assistance themed video was made highlighting REACT (Roadside Emergency Action Concerning Tyres), 'Best Practice' guidelines.
As the production is aimed at industry best practice, it has been made available to all for the benefit of safety whilst working at the roadside.
Phil Thirsk, Training and Development Manager at Bridgestone, said: "People might look at the video and think it is stating the obvious but it really isn't.
"We wanted to make something that was easy to watch and understand, with a clear narrative of what the tyre technician should carry out each time they attend a roadside breakdown.
"There have been numerous incidents when beacons are flashing on a service vehicle, the hazard lights are on, but an accident has still occurred on the hard shoulder of a motorway, or at the side of a road.
"This video sets out some simple guidelines which will help other road users clearly see that something is happening at the roadside which should minimise the risks involved in roadside breakdowns.
Every technician who passes the Bridgestone roadside training course gains the REACT licence to fit tyres at the roadside photo ID card (LtF), which is valid for five years.
The provision of other short films, encompassing vehicle jacking, manual handling and commercial wheel security themes are also under consideration.