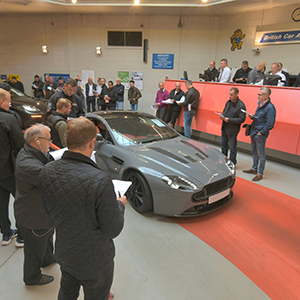 BCA has announced record traffic for its Live Online platform with over 105,000 visits in the first week of October.
BCA claim the buoyant market that has helped to drive record sales at auction centres across the UK is also pushing record engagement for its online platform.
Live Online has seen sales penetration rise to 28% across the board at BCA, a year-on-year increase of four percentage points (October 2016 vs October 2017). The platform is also seeing bids from the iPad app match the record levels seen in March 2017.
Commenting on the trend Stuart Pearson, managing director UK remarketing at BCA said: "We set out to give our buyers the best access to stock and the widest choice of vehicles in the UK and that means meeting the needs of online buyers.   We combine the reach of 23 remarketing centres and a national logistics network that means our fast-growing online audience of professional buyers can purchase stock 24/7 confident in the knowledge that vehicles will be delivered to their retail premises quickly and efficiently."
BCA Live Online allows remote buyers to compete with auction hall bidders in real-time, bidding and buying vehicles as they pass through the auction hall.  Users can access catalogues, appraisals and BCA Assured reports on screen as they bid.  Live Online customers also gain dedicated access to e-Auction, Bid Now, Buy Now sales and 'Offsite' stock that is located at a vendor's facility, featuring vehicles that are exclusively offered online.
BCA has invested in mobile technology to allow buyers to bid 'virtually' via iPad or iPad mini. The system is optimised to run on Wi-Fi or 3G connection, meaning it can be used almost anywhere.
Pearson said: "Live Online supports physical auction activity and the growth of digital sales is helped by an on-going expansion and investment in the infrastructure of BCA's physical auction network. It is supported by advances in our imaging and appraisal technology that provides buyers with a consistent description of a vehicle's condition."
BCA reports Tuesdays as the busiest day for its digital platform, and it regularly has over 1,000 active bidders participating. During peak times, there can be more than 1,400 bids placed through the system in a five-minute period.
Ends
From the dock to defleet and beyond, BCA touches over 3.5m vehicles a year, working with OEMs, fleet operators and dealers to provide the backbone of the UK's automotive supply chain.
From technical and logistics services for new vehicles, refurbishment, storage and logistics for the growing used sector and the core remarketing and auction operation, BCA offers the economies of scale and diversity of services to meet the needs of an impressive portfolio of customers.
As the automotive industry faces a period of unprecedented change, BCA is uniquely placed to deliver a range of linked services through the combined infrastructure of regional de-fleet facilities, vehicle logistics and preparation centres and physical, hybrid and digital remarketing channels.
BCA is investing and innovating today to address the big issues facing the automotive industry tomorrow.