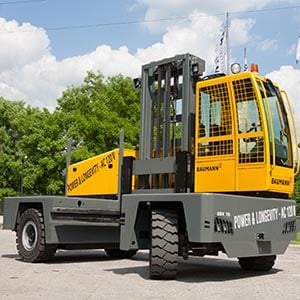 INNOVATION: New all-electric side-loader
Baumann are launching a new range of 120V electric side loaders.
Complementing their diesel-powered range, the eight-tonne electric model is available in three variations and is in response to changes in customer demand.
Each variant offers energy-saving features and heavy-duty components, with one customer saving £14,000 in fuel over a 9,000-hour period.
Maintenance costs are also around 50% less than the equivalent diesel unit, while noise pollution has been severely slashed in comparison.
"[Baumann electric side loaders] enable customers to benefit from massive savings on operational costs."
Andrew Burton, Baumann
Andrew Burton, of Baumann, said: "Electric powered side loaders have become increasingly popular across Europe, with more and more requests from customers to push the work cycle capacity even further.
"The Baumann electric side loaders offer the same travel and lift speeds as traditional diesel powered units but, most importantly, they enable customers to benefit from massive savings on operational costs."