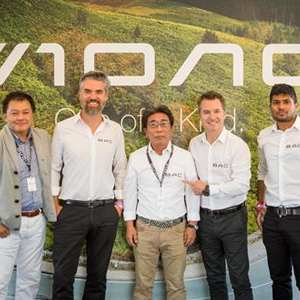 Briggs Automotive Company (BAC) has signed a new deal with AC Minds to make the Japanese sports car specialist its exclusive distributor for BAC Japan.
The manufacturer of the world's only road-legal, single-seater Mono supercar has had a big presence in Japan for many years, with the performance and quality-focused market lapping up the Mono's brilliance.
AC Minds has played a fundamental role in quenching Japan's Mono thirst in recent years. The Okazaki-based company has acted as a distributor for the south of the country since 2014 and returned excellent results in that time.
Japanese enthusiasts have benefited from seven Monos through AC Minds, and BAC has rewarded the specialist for its exemplary work by granting it exclusivity across the entire country.
This development of already strong and successful relationship will ensure the Japanese market receives the very best customer care and services from both BAC and AC Minds.
The new two-year agreement – which was officially signed at the recent Goodwood Festival of Speed – will see BAC attract new clients to an active and thriving customer base.
BAC Co-Founder and Director of Product Development, Neill Briggs, said: "We are absolutely delighted to join forces with AC Minds once again and grant them BAC Japan exclusivity. AC Minds has been a fantastic ally for BAC over the years; we've developed a great working relationship and been hugely impressed by its commitment and return. There's no better company in Japan to spread the BAC message, as their experience with bespoke British sports cars is exemplary. We're very much looking forward to our relationship getting even stronger and keeping Mono Mania at fever pitch in Japan."