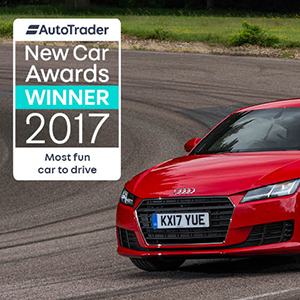 Auto Trader, the UK's largest marketplace for new and used cars, launched the inaugural Auto Trader New Car Awards in London yesterday, unveiling 10 new cars which can truly be described as consumer car champions.
Ditching the traditional 'expert panel of judges' and replacing them with 10,000 genuine car owners, the Auto Trader New Car Awards relies on the honest opinions of consumers who have bought, driven and lived with their new vehicles, giving them an ultimate authority in shortlisting the UK's most highly-recommended new cars.
The car owners that powered the Awards were asked about the criteria that governs each of Auto Trader's editorial reviews, which covers car ownership and driving aspects such as: running costs, handling, reliability, practicality, performance, equipment, interior and safety.
And it's not just the judging process that has had a refreshing revamp. The Auto Trader New Car Awards celebrates the cars that champion the specific and current drivers for car purchasing, covering areas such as family life, city driving, buying your very first car or just opting for something a little greener.
Auto Trader research reveals that almost half (45%) of car buyers claim they don't know what the traditional car type categories mean (e.g. SUV). And a third are open to buying new or used car, so providing guidance for consumers is key to helping in their decision making.
Auto Trader Cars Editor, Andy Pringle, said: "the aim of Auto Trader's New Car Awards was to make car awards simpler and easier to understand for car buyers, but also to put the power in the hands of the consumer, providing an accurate reflection of the cars that are true consumer champions."
The winners of the Auto Trader New Car Awards are:
Best car for families – Mercedes-Benz E-Class
Best car for city drivers – Mini Hatch
Best value new car – Skoda Yeti
Best car for long distances – Mercedes-Benz C-Class
Most fun car to drive – Audi TT
Best car for new drivers – Ford Fiesta
Car brand with best features – Volvo
Green Car of the Year – Volvo XC90 Hybrid
Best car launched in the last year – Skoda Kodiaq
New Car of the Year – Jaguar XF
Pringle, adds: "our New Car of the Year award winner, the Jaguar XF, deserves special recognition, as it came out on top scoring highly in categories such as comfort, safety, power, and good features and accessories."
Jeremy Hicks, Jaguar Land Rover UK MD, said: "We're extremely proud of any award for our products, but this latest Auto Trader Car of the Year title for the Jaguar XF is a real highlight. Voted for by 10,000 members of the UK car-buying public, it's a clear indication that we're producing cars that speak to everything modern drivers are looking for. That was always our target with the XF – we wanted it to be capable of everything without compromise; stylish, dynamic, luxurious, comfortable and affordable to run. I'm extremely pleased to see that car-buyers agree we've succeeded."
The Auto Trader New Car Awards follows the addition of over 6,000 brand new 'virtual' cars now available on Auto Trader. As well as the new car reviews and rich media content the marketplace, consumers can now choose a brand new car and order it from a local franchise dealer.