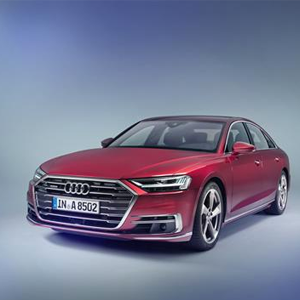 The new Audi A8 will feature on British television for the very first time as part of a major new campaign illustrating the benefits of the latest Audi intelligent technologies.
The campaign, Clowns, follows a troupe of the eponymous circus comics as they wreak havoc on the roads, while Audi models react to the situations they become embroiled in with their hi-tech safety capabilities.
The fourth generation A8 takes on one of the film's starring roles fresh from its world debut earlier this summer. The flagship luxury saloon again sets the benchmark for Vorsprung durch Technik with a new design language, an innovative touchscreen operating concept and systematic drivetrain electrification. It is also the first production car in the world to have been developed for highly automated driving, and from 2018 will progressively introduce piloted driving functions such as parking pilot, garage pilot and traffic jam pilot into series production.
As well as the A8, which demonstrates its park assist technology, the film highlights the benefits of features such as the A5's cross traffic assist rear, the A4's quattro all-wheel-drive and the Q2's pre-sense safety system.
Benjamin Braun, Marketing Director of Audi UK, says: "Everyone knows that Audi produces beautiful cars. But, not everyone knows they have amazing brains. Our film makes that point with great charm and wit as our cars negotiate the crazy world of the clowns with exquisite comic timing!"
The film, which airs for the first time on Sunday during the latest episode of the ITV drama series Victoria, is musically accompanied by a reinterpretation of the classic Stephen Sondheim showtune Send in the Clowns featuring the singer-songwriter Lisa Hannigan. A logo will encourage viewers to Shazam the song, and for every Shazam Audi will donate money to community groups across the UK to raise awareness of Road Safety Week, beginning 20 November.