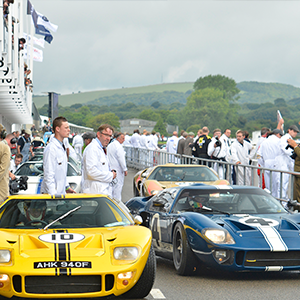 The early rain has cleared over the Goodwood Motor Circuit this morning to reveal another incredible array of cars lined-up in their paddocks and ready to storm the track. The 75th Goodwood Members' Meeting will witness twelve races unfold throughout the weekend, cars venturing on-track spanning a century of motorsport history.
The event kicked-off in true Goodwood style last night when, to the delight of Lord March's guests at the Members' Meeting Governor's Ball, a dozen incredibly noisy 2-stroke 250 and 350cc Grand Prix motorcycles tore through Goodwood House. Guests included former Grand Prix stars to say nothing of Mary Berry…
The Derek Bell Cup for one-litre Formula Three cars will kick off the action this afternoon, Martin Hibbert planting his ex-Chequered Flag Brabham on pole in convincing fashion earlier today. Also expect plenty of wheel-to-wheel action in the ever-popular Gerry Marshall Trophy for 1970-82 saloon cars. This evening's two-driver race will see car owners share with current stars and past-maters on a flat-out charge into dusk. Legendary aces such as Robert Ravaglia, Andy Priaux, Rob Huff, Stuart Graham, Gerhard Berger,Tom Kristensen and Mark Blundell will be sure to put on a show, the result determining the starting order for Sunday's single-driver, reverse-grid sprint race.
As well as the action on the famous Goodwood Motor Circuit, the Members' Meeting will feature a huge range of attractions for all the family off-track, including a Bonhams' auction, an exclusive event on Saturday evening and a wide variety of food and entertainment throughout.
For more information about the 75th Members' Meeting and to follow all the action on our live stream see https://www.goodwood.com/grrc/event-coverage/members-meeting/2017/.