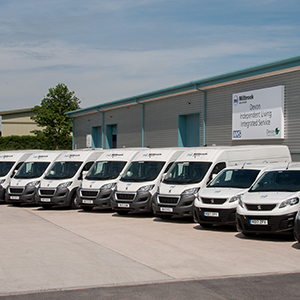 Millbrook Healthcare has taken delivery of 27 new PEUGEOT vans, marking the 400th PEUGEOT to join the company's fleet. The 27 new vans are mostly PEUGEOT Boxer 435 models, with the addition of two PEUGEOT Expert vans and a Luton-bodied Boxer. All vehicles have been supplied through Charters of Aldershot.
The vans will be used for delivering and collecting community equipment on behalf of local authorities and the NHS. Community equipment helps individuals to stay active, comfortable and independent in their own homes. Equipment supplied includes a wide range of items from walking sticks and crutches, to beds, hoists and pressure care equipment.
To help transport these items, Millbrook's latest PEUGEOT vans are fitted out with a selection of specialist equipment including load area lining, access ramps and racking. Conversion work is carried out by Bristol-based Motor on Services.
Millbrook Healthcare has 30 sites across England, from Cornwall to Kent and as far north as Coventry. The latest 27 additions to the fleet will operate from Millbrook's newest centre near Exeter, which opened its doors in June. Millbrook Healthcare delivers over 800,000 items of community equipment every year and handles 50,000 orders per month. The family-owned company is based in Southampton and celebrated its 70th anniversary last year.
"We are really pleased to be part of the growing Millbrook Healthcare success story and delighted to be supplying the company with its 400th PEUGEOT", commented Martin Gurney, Director of Fleet at PSA Group UK, "Millbrook Healthcare transports a wide range of equipment, helping to improve the lives of many people and the PEUGEOT light CV range provides vans ideally suited to the company's unique needs."
Gary Burnham, Group Transport and Assets Manager, Millbrook Healthcare commented; "We value our on-going relationship with PEUGEOT, which provides us with a wide range of vehicles to meet our specialist needs. The latest additions to our fleet will help us to improve the service we can offer our clientele across Devon and the West Country."