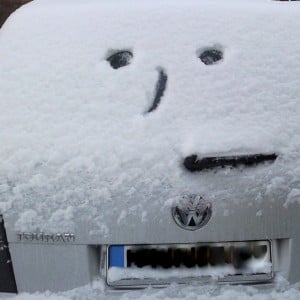 TIPS: Keep safe this winter
In our latest Expert Blog, Beth Nicholas, of Autokey Squad, gives her four key tips on how to keep you and your vehicle safe this winter…
Safety is imperative at this time of year.
Us Brits are known for our obsession with the unpredictable weather so here's four pointers (beyond general maintenance) on how to protect yourself, and your vehicle, during the winter months:
1. Watch where you park
A key consideration, which is overlooked much of the time, is where you park your car during the coldest time of the year.
Of course be careful where and how you're driving during the winter months too!
We aren't exactly known for extreme winter weather conditions in the UK, but from time to time… it does happen.
When parking up at home in the evening, outside your place of work, or at the local shopping centre, be aware of your surroundings.
If there's already snow and ice on the ground, or a forecast for nasty conditions has been put out, you may want to rethink squeezing your car into that tiny space on a road that doesn't really look like it should accommodate cars at the best of times.
If you park at the base a hill, is there a chance you may not be able to get out again?
Or are you at risk of a car rolling into your vehicle altogether?
Likewise, it may not be advisable to leave your vehicle too far away from your point of destination since you may find an ice-rink has appeared between you and your car later on in the day.
In the event something does happen to your beloved vehicle while parked up, chances are that you aren't in or around it when the unthinkable does happen… so the offending other is able to get away, and you are left with an insurance excess to pay and higher premium next year.
2. Keep it clean
Salt, mud, sludge – this is the harsh reality of winter (and one that isn't painted in all of the pretty Christmas card scenes).
Your vehicle runs the risk of having its lights, windscreen and registration plate coated with all manner of dirtiness which could potentially pose a threat if a police patrol car sees you as a risk to other drivers – not to mention the safety and danger aspect of driving with restricted lines of sight or ample lighting.
Have a large bottle of water and some kitchen roll in the boot of the car to give these areas a quick clean before you set off on a journey, no matter how short.
It is recommended that cars are washed thoroughly on a regular basis throughout winter – don't scrimp on this and you will be looking after the undercarriage and perishable components of the vehicle too.
3. Get stocked up – your winter car boot checklist
If the worst happens, and you find yourself stuck in a traffic jam or a snow-filled stretch of road, be prepared.
Here's a checklist of key items you should keep in the boot of your car throughout the winter months:
Warm clothing and blankets
Long-life food supplies and water
Torch and batteries
Alternative power supply or battery for your mobile phone
Tow rope & snow shovel
Water and kitchen towel
4. Make sure you have car key backup
Winter is quite possibly the worst time of year to have lost or stolen car keys.
Whether you are alone, in a group, or with the kids, you may not have a place of warmth and shelter in the event this happens to you.
And if you don't have your keys, you also don't have access to all of those items in your boot either.
It is critical you have access to your car when in such a vulnerable and high-risk situation, or at least a safety plan to get a replacement set of keys out to you ASAP.
If you don't have a spare key at home that can be brought out to you, do some preparation and research in advance to find a car locksmith offering emergency call outs.
Be sure to find a car key specialist who can get to you within a couple of hours and is able to work on your specific make and model of car.