At COP26, the UK announced that new heavy goods vehicles sold from 2040 will need to have zero emissions.
Novenber the 10th was 'Transport Day' at the climate conference in Glasgow and the UK is one of 15 countries to have signed a memorandum of understanding for zero emission medium and heavy duty vehicles (ZE-MHDVs).
Tesco delivered 17 electric vans to its Glasgow stores to mark the occasion, reports the Glasgow Times.
Cars and vans
A declaration was also announced on zero-emission cars and vans at COP26 today.
The landmark global agreement brings together governments, states, regions, cities, vehicle manufacturers, investors and civil society to commit to working towards 100% zero-emission car and van sales by 2035 in leading markets, and no later than 2040 globally.
However, the BBC reports that the US, China and Germany haven't signed up to the deal, though the US and China have signed a bipartisan agreement to actively reduce overall emissions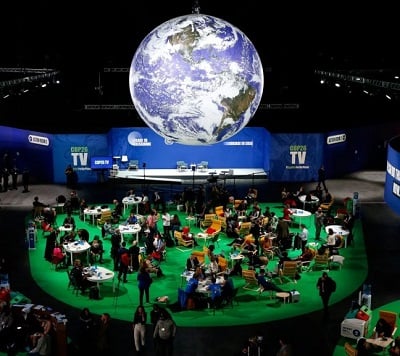 Shipping lanes go green
According to the BBC, plans for "green shipping corridors" to help a shift towards zero-emissions vessels are also due to be unveiled.
A coalition of 19 countries including Britain and the US have agreed to create zero emissions shipping trade routes between ports to speed up the decarbonisation of the global maritime industry.
Shipping, which transports about 90% of world trade, accounts for nearly 3% of the world's CO2 emissions.
Shoring up
To coincide with announcements on shipping, the British Ports Authority released findings from a survey today that 55% of MPs backed government funding for 'shore power'.
This is the provision of electrical power to ships in ports, to prevent them running their generators and creating local emissions.
Fly guilt-free
On aviation, there have also been pledges from 14 states, representing more than 40% of global aviation emissions, promising to work towards decarbonisation, reports the Telegraph.
However, British transport secretary Shapps said Britons need not feel guilty about flying and that it was not the "ultimate evil".
Attendees at COP26, including prime minister Boris Johnson, have faced criticism for using planes for short journeys to and from the conference.
Johnson, however, seems to have taken the criticism on board as he arrived in Glasgow by train this afternoon.
Draft Glasgow agreement
Overnight, the Guardian also reported the draft of the outcome of this year's COP26 negotiations – a paper urging countries to strengthen their 2030 greenhouse gas emissions targets by the end of next year.
The text refers to the Paris temperature goal, which could limit temperature rises to 2C, rather than the more ambitious goal of 1.5C.
Alfonso Martinez, Managing Director of LeasePlan UK, part of the world's largest leasing company LeasePlan, said: "Back in 2017 when we became one of the founding members of the EV100 and committed to accelerating the worldwide switch to EV, everyone said we were being too idealistic. At the time, we were just one of a few lonely voices telling everyone that the EVolution was just around the corner. But now, the excitement for EVs among businesses has reached fever pitch and there are very few people left to convince. Years of debate around range, cost and model availability have subsided. Passenger issues have been solved. Now, companies want to go electric; their regulators are pushing them, their investors are requesting it, and their customer are demanding it. Three years ago, 1 in 100 of our new orders were for an EV. Now it's 1 in 5. The whole mindset around EVs has changed. Our message to business leaders and fleet managers is simple: it's possible, you just need to get started."
Arturs Smilkstins, Partner at Boston Consulting Group said: "EVs are an attractive solution in our efforts to decarbonise transport, but adoption levels are being severely impacted by a lack of public charging infrastructure – something that needs to be front of mind if we're to achieve global net-zero targets.
"We predict that by 2026, EVs will account for more than half of light vehicles sold globally, however further investment in public charging infrastructure is critical to ensuring that EV uptake remains high. 100 million additional charge points will be required globally in the next decade to keep pace with projected sales growth. If governments and the private sector fail to meet these ambitions and don't work to implement a practical roadmap for the buildout, the EV market could be brought to a standstill – something we simply cannot afford."
Tim Buchan, chief executive officer, Zenith, said: "The transition to net zero underpins everything we do at Zenith. We are working closely with customers and partners to accelerate change. The EV100 declaration at COP26 is a milestone for our industry and one that we are proud to be a part of."
Zenith has already made significant progress on the road to net zero, with 42% of its own fleet now fully electric. The transition of customer fleets continues to accelerate, with battery electric vehicles (BEVs) accounting for 17% of the car fleet.
Salary sacrifice leads the change, with 79% of current orders being for a BEV, while the customer LCV order book is now 37% BEV.
Zenith is also the only UK fleet company to have committed to the Science Based Targets initiative (SBTi), a partnership between CDP, a not-for-profit charity that runs the global environmental disclosure and reporting system, the United Nations Global Compact, World Resources Institute (WRI) and the World Wide Fund for Nature (WWF). Science-based targets show companies how much and how quickly they need to reduce their greenhouse gas (GHG) emissions to prevent the worst effects of climate change.
Zenith has committed to set a robust emissions reduction target at the pace and scale required by climate science to reach net-zero emissions by 2050. It has also joined the Business Ambition for 1.5°C campaign – the world's largest and fastest-growing group of companies that are aligning with 1.5°C to help halve global emissions by 2030. By joining Business Ambition, Zenith has also become part of Race to Zero, the UN-backed campaign.
Zenith recently received carbon neutral status and international recognition with certification from international environmental consultancy Carbon Footprint. After calculating its carbon footprint for the first time in December 2020, the company has offset its carbon emissions for FY21 using globally recognised and verified carbon credits.
Louis Rix, COO and co-founder of CarFinance 247:
"Governments must lead change ahead of the EV transition. However, all the while some of the largest governments in the world fail to back the deal to eliminate new car emissions by 2040, car manufacturers can't be expected to support it too. These motoring companies are big players within economies governed by the likes of Germany, China and the US. Ultimately, both governments and manufacturers must be concerned about the acceleration towards a purely EV industry.
"We know that the charging infrastructure in the UK is not strong enough, and no nation has declared themselves ready for entire EV ownership. Furthermore, our research has found that 1 in 5 UK adults don't like EVs, with 65% reasoning that there aren't enough charging points. Only once these concerns are quashed and dismissed can we expect the governments (followed by the manufacturers) to back the pledge. The onus is of course on governments, but motor manufacturers must work with them to achieve solidarity on the EV pledge."
---
Author: William Barns-Graham, Institute of Export & International Trade