Drivers of electric vehicles will increasingly be able, not only to charge their cars for free, but will be paid for doing so because of the UK's increasing reliance on wind power, according to Ohme, a pioneering electric vehicle charging manufacturer.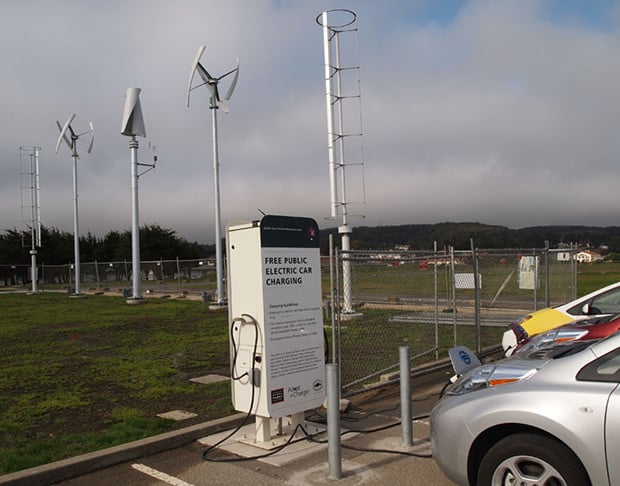 Windy weather conditions meant that the UK's windfarms generated a record 16GW or 45% of the UK's electricity on Sunday 8th December, at times this was more renewable electricity than the electricity grid needed.
This meant that for the first time, drivers who have an Ohme charger and are signed up to supplier Octopus Energy's Agile time-of-use tariff were actually paid to charge their vehicles. Ohme's app alerted their customers to the opportunity in advance to encourage them to plug in. This also helped to balance the load on the electricity system.
This news comes on top of Ohme's proven ability, when combined with a time-of-use energy tariff, to deliver savings of up to 75% of fuel costs to EV drivers versus a petrol or diesel vehicle. In comparison to charging with a standard variable tariff, Ohme can save drivers £250 – £400 per annum.
Consumers who benefitted from the surge in wind power were informed that they would receive up to 5.6p for every kilowatt-hour of electricity used which equates to 1.8p per mile. A Nissan Leaf driver charging the battery from empty to achieve its maximum range of 168 miles would have been paid up to £3.02. The owner of a Jaguar i-Pace would have received £5.25 to charge their battery to max.
Commenting on the news, David Watson, CEO of Ohme said: "This is a landmark moment. For the first time, drivers using our smart technology on Octopus Energy's Agile tariff have been paid to charge their vehicles – something that will happen with increasing regularity as the UK becomes more dependent on wind power. The windy weather has clearly demonstrated the value of our smart chargers as we not only help electric vehicle drivers get cash for filling up with 100% renewable energy but also ease pressure on the electricity system."
Ohme is helping to drive the mass adoption of EVs by making charging easier, cheaper and more user-friendly. Ohme is an app-controlled, intelligent EV charger that is a revolutionary way for EV drivers to save money when charging their vehicles at home: its charging system calculates how much energy is needed and then automatically chooses to charge during the cheapest periods.
In conjunction with time-of-use tariffs provided by suppliers such as Octopus Energy, Ohme can routinely deliver EV charging costs as low as 2p/mile, compared to more than 10p/mile for most petrol and diesel cars. Ohme's app puts drivers in control of their charging preferences, giving them information to make informed decisions – telling them how and when they can save money by charging their car at the most cost-efficient times (typically between 10pm – 6am).
By utilising time-of-use tariffs, not only does Ohme save EV drivers money it crucially also benefits the UK power infrastructure by shifting load away from peak periods. This helps to relieve electricity network capacity issues by charging EVs typically during low demand periods in the middle of the night.
Ohme is a rapid and easily deployed, cost-effective charging solution for the mass market, which can help avoid the need for expensive financial investments in the UK energy infrastructure.
Ohme make smart cables for all plug types, even the 3-pin socket. Ohme cables can also be plugged into existing EV chargepoints to upgrade them to have smart capability. It works with all electric vehicles and can charge at 7kW, delivering over 25 miles of range for each hour of charging. Ohme also has an EV charger eligible for the OLEV Homecharge Scheme, providing up to £500 of grant support for installation.