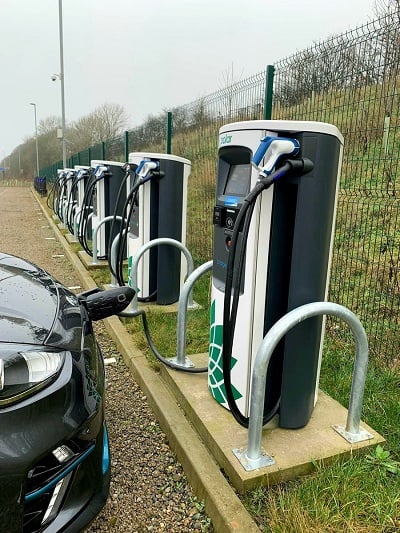 BP Chargemaster has opened the first public rapid charging hub on the M6 – and the first in the North West of England – is now live, with six 50kW rapid chargers located just off the motorway at the Caton Road Park and Ride site near Junction 34.
While the 12 standard 7kW charging points will serve electric vehicle drivers who need to park for several hours to use the Park and Ride facilities to head into Lancaster, the six rapid chargers will help drivers making journeys up and down the M6.
The opening of the charging hub marks a milestone in a partnership between Lancashire County Council and BP Chargemaster, with work nearing completion to install a 150-strong network of electric charging points throughout the county.
County Councillor Keith Iddon, Lancashire County Council cabinet member for highways and transport, said: "The charging hub at Lancaster marks another milestone in the evolution of motoring and the move towards electric vehicles. Lancashire is geographically at the centre of Great Britain and an ideal place for a facility such as this which should be popular with owners of electric vehicles making longer journeys through this area."
Matteo de Renzi, CEO of BP Chargemaster said: "Providing convenient and reliable rapid charging along the UK's motorway network will be key to supporting the uptake of electric vehicles over the coming years. Alongside our own rollout of 150kW ultra-fast chargers on BP forecourts, including some motorway service area locations, we are proud to have opened the first public rapid charging hub on the M6 in partnership with Lancashire County Council."
The charging points are available on the nationwide Polar network, the UK's largest public charging network, with the rapid chargers all featuring contactless bank card payment for easy ad hoc access, as well as smartphone app and RFID card access for more regular users and Polar Plus members.