Drink driving related accidents are on the rise. In fact, research has found a 5% increase over the last five years. Here at Leasing Options we've been thinking about what we can do to help prevent drink-driving and so we've come up with an idea that resembles how health organisations have been tackling the issue of smoking. Rebranding and repackaging alcohol.
As we've mentioned above, drink-driving related car accidents are on the rise and we need to take action now to get the word out. To do this we've been away and taken inspiration from how cigarette branding and packaging has changed over the last few years, to spread the awareness of how harmful smoking cigarettes can be to the human body, and transferred this method onto alcoholic beverages. As a result, we've taken a variety of common alcoholic drinks you'd find on any shop shelf, from beer and wine to whiskey and gin, and rebranded and repackaged them, removing any stimulating visuals and persuasive copy, making them as plain and simple as cigarette packaging looks today. We've then added in some hard hitting motoring-related imagery alongside some awful, shocking drink-driving facts to drive the message home about the dangers of drink driving.
How Plain Cigarette Packaging Impacted The Market
The reason we took inspiration from the rebanded and repackaged cigarette packs was because it has proven to be a key factor in the decrease in people buying cigarettes. According to a report in the Guardian, researchers have found that since the implementation of plain packing and a higher tax were introduced to cigarettes three years ago, sales have decreased by around 20m a month, (down from 12m prior) causing a net revenue drop for the tobacco industry by 13%, from £231m to £198m a month.
Prof Anna Gilmore, director of the Tobacco Control Research Group (TCRG), said: "The underlying rate of decline in tobacco sales almost doubled after these policies were implemented."
This shows the power that the rebranding and packaging had on the cigarette industry, and more importantly, the people who were buying cigarettes. We hope that our rebranding efforts here, despite only being concept art examples for now, could, at the very least, show how doing the same thing with alcoholic beverages could bring some awareness to the dangers of drink-driving.
Our hope is that these pieces of concept art strike a chord with drivers and make people think twice before pulling off the drive with alcohol in their tanks.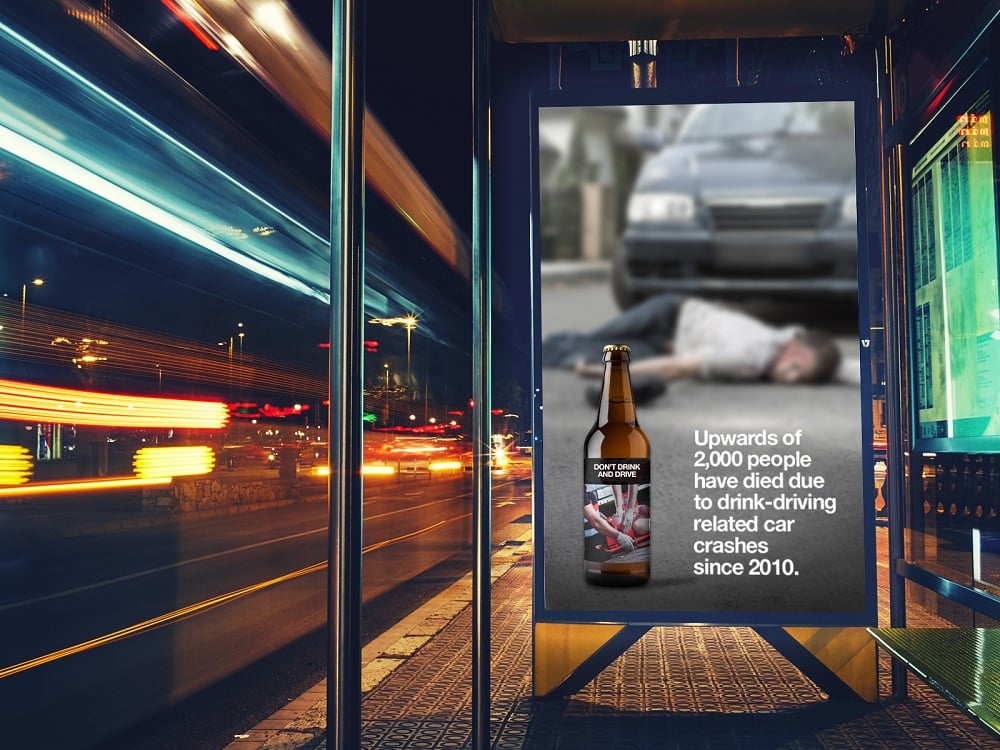 The Leasing Options Road Safety Awareness Campaign
 This is the third part of our Road Safety Awareness campaign.
In part one we delved into official government data and spread the word about how drink-driving is still a huge threat to society today. For example, did you know that in the UK, over 2,000 people have died due to drink-driving car crashes since 2010? Or that there have been over 40,000 drink-driving related car accidents over the last 7 years? Find out more here.
The second part of our campaign revolved around highlighting the importance of wearing high visibility clothing when near the road. To do this we created a quick game that tested how fast you could spot people with and people without hi-vis clothing. The results were shocking, with players able to find those in hi-vis 2.1 seconds quicker than without, which is the same as a car going 30mph traveling 90ft. Click here to read more.
---
This article was written by the team at Leasing Options