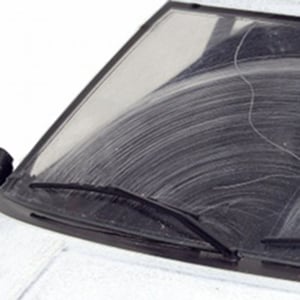 How clean is your windscreen?
How clean is your windscreen?
A new survey from Autoglass has discovered that nine in ten drivers know that driving with a dirty windscreen is dangerous, however less than a third replace their wiper blades for optimum visibility.
Wiper blades should be replaced every six to 12 months in order for them to keep functioning as they should. However two in three drivers (67%) fail to do this despite the fact that nearly all of those polled (90%) admitted to knowing that driving with a dirty windscreen is dangerous.
Neil Atherton, Sales and Marketing Director at Autoglass, said: "Visibility on the road ahead is paramount for safe driving – and at this time of year, when the clocks have changed, it's more important than ever. So we're delighted to offer our customers a free set of wipers as part of our promotion to help keep windscreens clean, clear and free of smears which can distort your view of the road ahead."
Richard Coteau, Senior Corporate Fundraiser at Brake, the road safety charity, said: "All drivers have a responsibility to ensure that their vehicles are roadworthy and well-maintained. Vehicle defects contributed 2,000 crashes in 2013, 42 of them causing deaths."
It seems that the main causes for driving with a compromised line of sight are the weather and forgetfulness. Over two-fifths of UK drivers have driven with a dirty windscreen or driven in rain so heavy it impaired their vision (41% and 43%), and nearly half (48%) have forgotten to replace their windscreen washer fluid before hitting the road.
What's more, the research shows there is a real need for education amongst younger drivers as they are much less aware of the risks involved with driving with a dirty windscreen. Just 28% of 18-24s recognised the dangers of driving in this state compared to nearly half (47%) of over 55s.
The research was commissioned by the UK's leading vehicle glass repair and replacement company Autoglass, to announce a national promotion with Bosch, which will gift a free pair of wiper blades with front windscreen repairs and replacements booked by 17th November 2014.
Kiran Wade, Product Manager for wiper blades at Bosch said: "When it comes to maintaining your car, it's sometimes easy to forget about your windscreen wipers, but a high quality wiper blade can make all the difference to safety. We're pleased to be teaming up with Autoglass® to offer customers a complimentary set of Bosch wiper blades providing superior performance to help ensure that windscreens everywhere are clearer and cleaner this autumn."