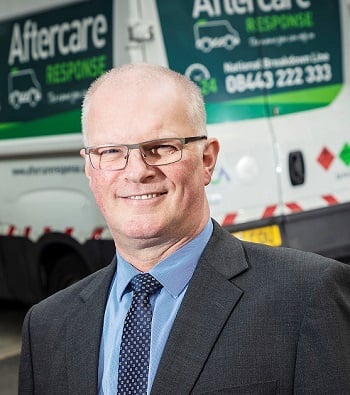 Aftercare Response has its sights set firmly on growth after entering 2019 under new leadership and having just held its first, highly successful staff conference.
Part of the multi-faceted Bevan Group, Aftercare Response maintains and repairs commercial vehicle bodies and ancillaries – underlining a resolute commitment to safety, it holds PAS 43 'best practice' accreditation for breakdown, recovery and removal operations.
Aftercare Response's field-based engineers provide commercial vehicle operators nationwide with planned and emergency support covering bodywork of all kinds, as well as equipment such as cranes, tail-lifts, and roller shutter doors, and more specialist items such as impact protection vehicle 'crash cushions'. They are managed by operations controllers based at Bevan HQ in Wednesbury, West Midlands.
More than 70 members of the Aftercare Response team from across the UK attended the conference, leaving colleagues 'at their posts' to ensure continuity of service to customers.
Staged at a hotel in Walsall, the event provided many with a first opportunity to meet Andy Harrison, who took up his position as Aftercare Response's new General Manager late last year. Crucially, having spent the greater part of his career to date with leading transport and logistics provider Ryder, he brings a customer's perspective to his latest challenge.
"I've inherited an excellent team," enthused Andy. "Having managed Ryder's 24/7 National Breakdown Centre, and compared Aftercare Response's performance with those of other providers, I had no hesitation in assuring our conference delegates that they're the best in the business."
In a highly motivational address Andy reviewed achievements of 2018, before focusing on his goals for 2019. As well as fostering a stronger teamwork ethic and refining internal systems to deliver further efficiencies, Aftercare Response plans this year to introduce its first trainee programme, and to establish a 'skills matrix' that will offer its engineers increased scope for career progression.
"Engagement and collaboration with colleagues are key to my approach, which helps to explain why we decided to bring everyone together, and to seek their input," explained Andy, who is also embarking on a nationwide tour that will allow him to spend valuable time with colleagues in the field.
"This business has come a long way in a very short time. Five years ago it ran 11 vans and turned over £1.3 million. Today, we have more than 50 mobile engineers on the road, and another 30 people working in various planning, estimating and administrative capacities back at base, while turnover has shot up to more than £8 million.
"There is still huge potential for growth, of course, given the ever-increasing importance of compliance, and health and safety, within our industry. It's essential, though, if we're to reach the next level, that everyone is fully 'bought into' what we're trying to achieve."
Andy began his career nearly 40 years ago, as an apprentice mechanic. He joined Ryder in 1984 as a commercial vehicle technician and rose through the ranks to hold a succession of senior, service-related positions. Most recently, as Operations Development Manager, he was responsible for initiating new processes and introducing new technologies across the Ryder network.
"I have dealt with the Bevan Group since the late 1980s, when we relied on it for crash repair work," recalled Andy. "It's an exceptionally well run, customer-focused company with a very bright future, and this position with Aftercare Response – running a round-the-clock mobile servicing operation from a national call centre – matched my skill set perfectly. I'm determined to make the most of what is a great opportunity."