UK new car registrations grew by 26.2% in February as 74,441 new cars joined Britain's roads, according to the latest figures from the Society of Motor Manufacturers and Traders (SMMT). While February is typically low volume ahead of the March plate change, this year it marked the seventh month of consecutive growth as easing supply chain shortages steered the market closer to pre-pandemic levels, down just -6.5% on the same month in 2020.1
The month saw almost universal growth across the market, with deliveries to private buyers up 5.8% and those to large fleets up 46.2%. Business registrations, which account for a fraction of the market, increased by 0.7%, equivalent to just nine units.
There was also growth in all but two segments, with only registrations of executive and luxury saloon cars falling, by -15.4% and -6.3% respectively. Minis (up 66.1%), multipurpose vehicles (41.9%) and superminis (37.7%) posted the largest percentage uplifts, with superminis remaining the most popular, accounting for a third (33.1%) of all deliveries.
Hybrid electric vehicles (HEVs) recorded the most significant growth of all fuel types, up 40.0%, followed by petrol, up 35.8% with a 56.9% market share, while diesel registrations fell by -7.0%.2 Zero emission capable vehicles, meanwhile, continued their upward trend, with plug-in hybrids (PHEVs) rising 1.0% and battery electric vehicles (BEVs) posting another strong month, up 18.2% to account for one in six new UK car registrations.
Combined, plug-ins accounted for almost a quarter (22.8%) of all deliveries in the month, with further growth anticipated. Indeed, nearly half a million (488,000) PHEVs and BEVs are expected to join Britain's roads in 2023, as manufacturers bring more than 40 new plug-in electric models to the market. This will inevitably increase demand for charging infrastructure, however, and while the new £56 million LEVI capability funding is welcome, there remains a clear requirement for binding targets that ensure chargepoint rollout keeps pace.
As the new UK car market looks towards a year of double-digit growth, the Spring Budget is an important opportunity to shape Britain's net zero progress and deliver an equitable transition for all. This should include a long-term plan for chargepoint investment, aligning VAT on public charging with domestic energy use, and reviewing the Vehicle Excise Duty premium that will unfairly penalise EV buyers switching to this inevitably more expensive technology in the future.
Mike Hawes, SMMT Chief Executive, said: "After seven months of growth, it is no surprise that the UK automotive sector is facing the future with growing confidence. It is vital, however, that government takes every opportunity to back the market, which plays a significant role in Britain's economy and net zero ambition. As we move into 'new plate month' in March, with more of the latest high-tech cars available, the upcoming Budget must deliver measures that drive this transition, increasing affordability and ease of charging for all."
Jon Lawes, Managing Director, Novuna Vehicle Solutions: "While electric vehicle registrations continue to rise at a steady rate, the UK risks falling behind other leading European countries in the transition to EVs and green transportation.
"Failure to intervene to adequately support the industry, notably to build a more robust supply of battery technology has stymied the UK's progress to date.
"With the budget fast approaching, it is clear that the Government needs to significantly pledge to ramp up investment in the UK automotive supply chain to meet industry demand or risk compromising its 2030 targets."
Nick Williams, Transport Managing Director, Lloyds Banking Group said: "February has seen another promising month for EV uptake, with 12,310 new vehicles registered.
"However, if our charging infrastructure is to adequately service the growing number of EVs, it will need significant expansion, both in terms of the volume and the distribution of chargepoints across the country. With the new Chancellor due to deliver his Spring Statement this month, drivers will be looking to the Treasury to confirm investment that will support the UK's charging network.
"Similarly, individuals and businesses will be hoping to see continued incentives for choosing a zero emissions vehicle over a higher carbon alternative, with policies put in place that take a fair, emissions-based approach. By supporting the UK's infrastructure, industry and drivers, the Chancellor can help maintain the momentum the country is rapidly building on its electrification journey."
"New car sales have continued their positive start to the year and we expect steady improvement in both new and used vehicles throughout the year," said Sue Robinson, Chief Executive of the National Franchised Dealers Association (NFDA), which represents franchised car and commercial vehicle retailers in the UK commenting on the latest SMMT's new passenger car registration figures.
In February, a total of 74,441 new cars were registered, an increase of 26.2% from the same period last year. Sales to private buyers grew by 5.8%; fleet registrations were up by 46.2%.
Battery electric vehicles (BEVs) experienced moderate growth, up 18.2% to 12,310 units. Plug-in hybrid (PHEVs) registrations increased by1% to 4,723 units, whilst hybrids (HEVs) experienced impressive growth of 40% to 9,633 units. There are now 29,607 registered BEVs on the road in 2023 compared to the 24,850 at the same point last year, a 19.1% increase.
With sales of electric growing, diesel fell from 3,922 units to 3,348 (-14.6%), but petrol has risen from 23,952 units to 32,311 units (34.9%).
Sue Robinson added: "Steady macro-economic conditions should allow the new vehicle market to deliver a solid year. Franchised dealers continue to assist customers with choosing the right vehicle for their needs, finding appropriate financing schemes and the service plan."
Kim Royds, EV Director at British Gas, said: "It's encouraging to see the number of electric vehicles (EVs) on the UK's roads continuing to grow for a seventh consecutive month, but increased demand for newer models is highlighting gaps in the capacity of the charging network.
"In order to continue with effective electrification, the UK must address the charging challenges households are facing that are preventing them from making the switch to electric.
"All eyes will be on the Chancellor's Spring Budget this month, where continued investment to expand the UK's charging network must remain on the table if we're to truly champion the adoption of EVs."
Jamie Hamilton, automotive partner and head of electric vehicles at Deloitte, said: "New car registrations grew, year-on-year, by 26.2% reflecting ongoing fleet and consumer demand and a seventh-consecutive month of sales growth.
"Consumers have a growing interest in electric vehicles, more recently as a way of lowering overall day-to-day expenditure as the cost-of-living crisis continues. The fully electric and plug-in hybrid segment of the market for both private and fleet sales now accounts for 22.8% of overall market share.
"The second hand market still has some way to go to reach maturity and make EVs more affordable for consumers. Overcoming anxieties about battery life will also support this.
"With a fast-growing population of electric vehicle drivers in the UK, there are new opportunities for tertiary markets – both existing and new – to engage with. One in five (21%) electric vehicle drivers look for retail and hospitality amenities when charging their vehicle away from home. With a third (36%) of EV drivers prepared to wait between 21 and 40 minutes to charge from empty to 80% battery capacity, and one in four (25%) prepared to wait between 41 minutes and an hour, there is a new market opportunity for retailers and hospitality venues to cater to consumers during this charge window.
"As charging infrastructure continues its rollout, the focus is now turning to consumer expectations and how the charging process, particularly away from home, can be made easier. For example, simplifying payments with a single account rather than one per charging point type.
"We expect a number of regulations to come down the line which will further specify the proportion of electric vehicle stock to be produced by manufacturers. From both sides – consumer and manufacturer – the EV market is growing, and growing at pace."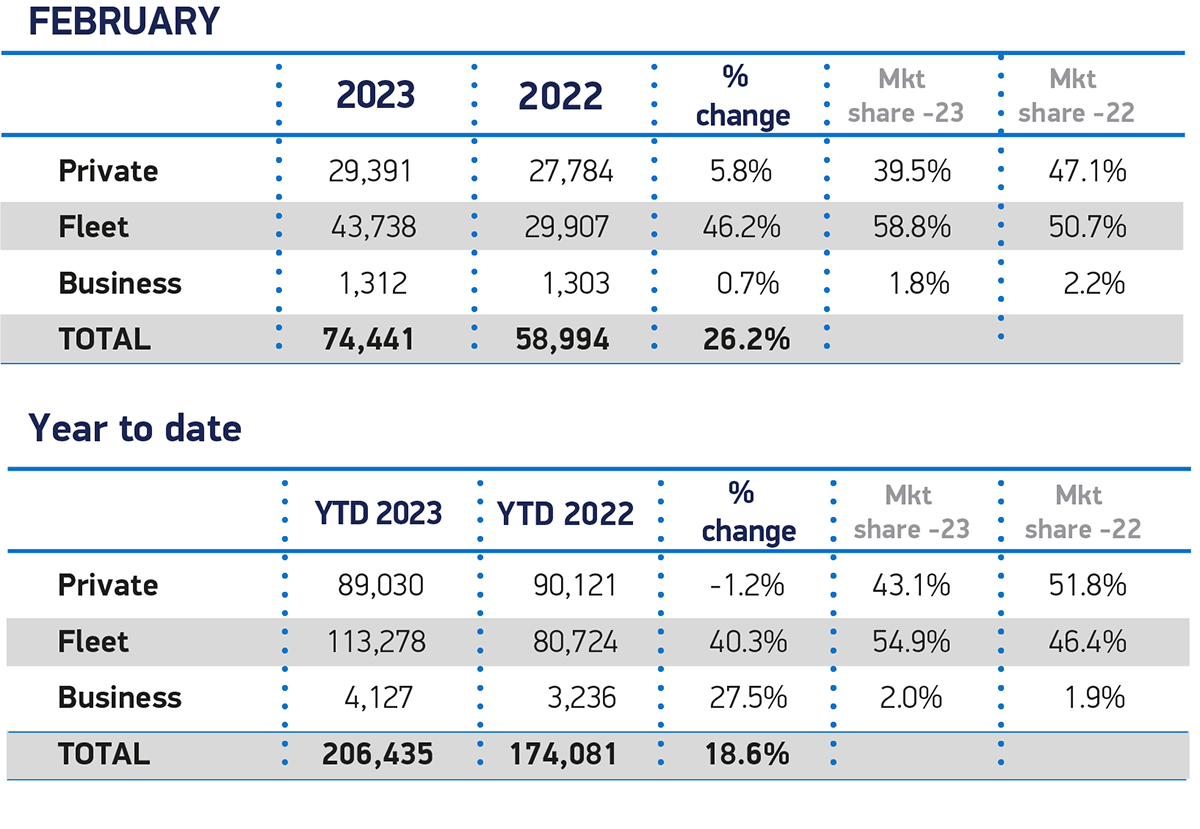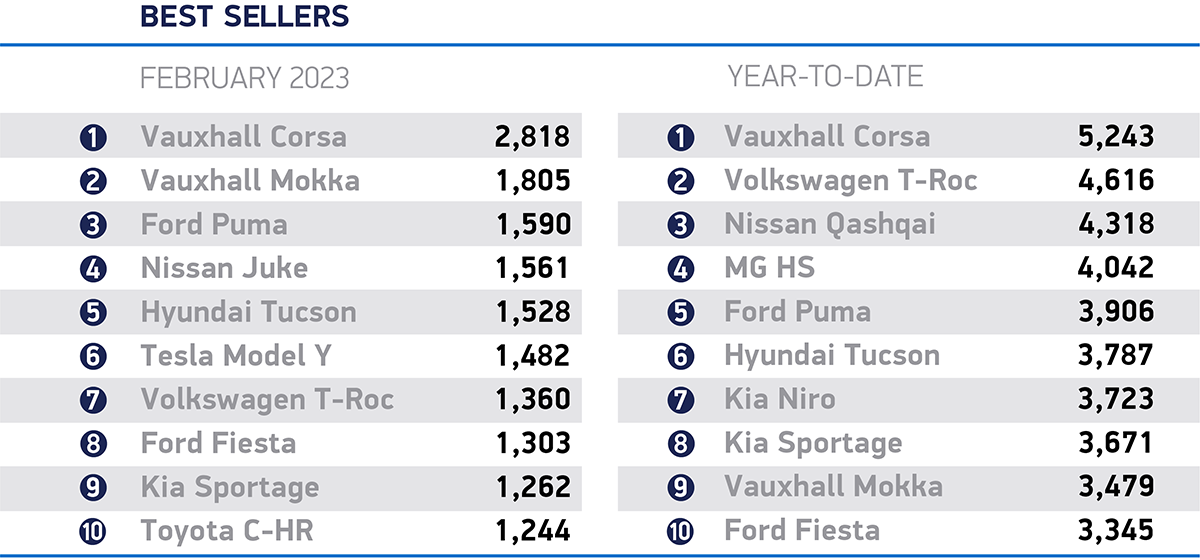 ---
1 February 2020: 79,594 units.
2 Petrol and diesel totals include mild hybrid electric vehicles (MHEVs).