New car registrations in June grew 28.0% year-on-year to 186,128, according to the Society of Motor Manufacturers and Traders (SMMT)'s latest figures. The monthly performance was again artificially lifted through comparison with June 2020, when the UK began to emerge from the first pandemic lockdown and showrooms in England opened up at the beginning of the month.
Compared with the previous decade average, however, monthly registrations were down -16.4%, while total registrations for Q2 2021 fell short of industry expectations by around 9,000 units partly as the ongoing global semiconductor shortage acted as a limiting factor on supply.1 As a result, overall registrations for the first half of the year are down -26.8%.2
With the latest SMMT research showing electrification could create 40,000 new jobs by 2030, plug-in vehicles continued to increase market share.3 Combined, battery electric (BEVs) and plug-in hybrid vehicles (PHEVs) accounted for 17.2% of new vehicles hitting the road (31,981 units). BEVs accounted for more than one in 10 registrations (10.7%). PHEV uptake, however, continued to grow faster than BEV uptake for the third month running, following reductions to the Plug-in Car Grant in March.
Private registration numbers were positive but subdued compared to large fleets, reflecting an ongoing trend for the year with consumer uptake increasing 30.6% year on year, compared to 47.8% for fleets.
All vehicle sizes – bar executive and multi-purpose – saw growth in June, with the strongest growth seen in the mini segment, which had been relatively weak for several months. Superminis were the most popular car class, accounting for 34.1% of registrations, followed by lower medium (26.8%) and dual purpose (24.5%).
While economic confidence continues to strengthen, with some independent forecasts for GDP growth reaching 8% in 2021, new registrations still remain adrift of pre-pandemic levels. Returning to the previous decade average of 2.3 million new car registrations per annum, and for that total to be electrically-driven, consumers need certainty about the future with long term government commitments to incentives, and confidence in the rollout of charging infrastructure nationwide.
Mike Hawes, SMMT Chief Executive, said: "With the final phases of the UK's vaccine rollout well underway and confidence increasing, the automotive sector is now battling against a 'long Covid' of vehicle supply challenges. The semiconductor shortages arising from Covid-constrained output globally are affecting vehicle production, disrupting supply on certain models and restricting the automotive recovery. However, rebuilding for the next decade is now well underway with investment in local battery production beginning and a raft of new electrified models in showrooms. With the end of domestic restrictions later this month looking more likely, business and consumer optimism should improve further, fuelling increased spending, especially as the industry looks towards September and advanced orders for the next plate change."
Jon Lawes, Managing Director of Hitachi Capital Vehicle Solutions, commented: "The latest figures unequivocally demonstrate that BEVs are now an increasingly mainstream option to motorists. We've seen this sustained uptake in EVs first-hand, with HCVS seeing a 368% increase in EVs across our fleet in the last financial year – a remarkable figure during the lowest year of new car registrations since 1992.
"Last month's figures should also encourage further investment into infrastructure and innovative financial offerings – such as HCVS' new consumer leasing service with RAC, which enables drivers to make the switch to EVs for as little as £227.99 per month. EVs will increasingly become front of mind as consumers and businesses look to replace their vehicles in the coming years and ensuring there are viable options in place for all lifestyles and budgets is vital to future-proof the industry as the 2030 ICE ban approaches."
Jamie Hamilton, automotive director and head of electric vehicles at Deloitte, said: "New car sales this month clocked in at a disappointing 16.6% below pre-pandemic comparables in June 2019, and are also down 16.4% on the ten-year average.
"That said, almost all conditions are right for a super-charged recovery in the car industry. Consumer and business confidence is up, and limited spending opportunities over the last year have left many consumers with record savings. However, while demand is clearly on the up, the industry is facing major supply issues that have temporarily applied the brakes to recovery.
Semi-conductor shortage continues to squeeze stock
"The ongoing global semi-conductor shortage has had a direct impact on consumers with manufacturers unable to fulfil orders in a timely manner, especially on the less popular models they have had to deprioritise. In turn, dealerships have less stock and many are even struggling to source display models for consumers to test-drive.
"The ripple effect of this shortage has seen unusual activity in the used car market. Demand is high, but the limited availability of new cars means that there are even fewer used cars coming onto the market. As a result, prices have shot up. In an attempt to secure stock, some dealers have looked beyond the auction houses, turning their attentions to private sellers.
"Unfortunately, there is little respite for the industry, with the semi-conductor shortage expected to continue causing issues throughout the rest of the year and maybe even into 2022.
Investment key to continued EV growth
"Whilst overall sales were down, electric vehicles continued to see significant growth in June. Battery electric and plug-in-hybrid achieved a combined 17.2% market share (10.7% and 6.5%, respectively), maintaining a comfortable lead on pure diesel yet again, which captured just 8.1% of the market. The growth of plug-in hybrid is likely a reflection of charging point accessibility for pure electric, which has yet to reach all consumers.
"Almost a quarter of cars produced in the UK are now electric in some form, demonstrating the demand for ultra-low and zero emission vehicles. As this figure rises, both the economic and environmental cost of buying and shipping batteries from other countries to the UK will come into sharp focus. Unless UK manufacturers can find a way of reducing the cost of installing batteries, they may struggle to compete with the global market.
"The most obvious way to reduce both costs and environmental impact is to produce batteries in the UK and recent commitments have been seen as a major boost by many in the sector.
"More investment will be required over the next decade in order to meet 2030 ambitions."
Lucy Simpson, Head of EV Enablement at Centrica Business Solutions, said: "We've seen huge increases in the number of motorists opting for low carbon transport over the past 12 months, with in electric and hybrid models outperforming petrol and diesel vehicles. Today's figures prove that trend shows no signs of slowing down, with registrations up 138% compared to the same period last year.
"The next step will be accelerating the rate of EV adoption even further, which is essential if the UK is to meet its net zero targets. Looking ahead, all eyes will now be on the government's eagerly awaited Transport Decarbonisation Plan and how it will incentivise greater EV uptake ahead of the 2030 ban on ICE vehicle sales.
"Our research into business attitudes towards EVs revealed that range anxiety is still the chief concern for a third of UK firms. So, investment in a network of accessible charging infrastructure and guaranteeing the 'right to plug' for all those using electric vehicles will be key to promoting the mass adoption of low carbon transport."
Meryem Brassington, electrification propositions lead at Lex Autolease said: "Momentum is beginning to build along the road to recovery from the pandemic, but today's half-year figures still represent a 28% drop on pre-Covid levels, indicating that the car industry isn't out of the woods just yet.
"Despite this, it's encouraging to see the growth in EVs continue to show no signs of slowing down, with registrations up 138% on this time last year. We'll no doubt see the impact of vehicle supply issues and semi-conductor shortages unfold in the coming months, but if we're serious about leading the EV charge then sustained investment from policymakers to accelerate the UK's electrification plans has to stay at the top of the agenda."
Further analysis and information can be found at TDC Automotive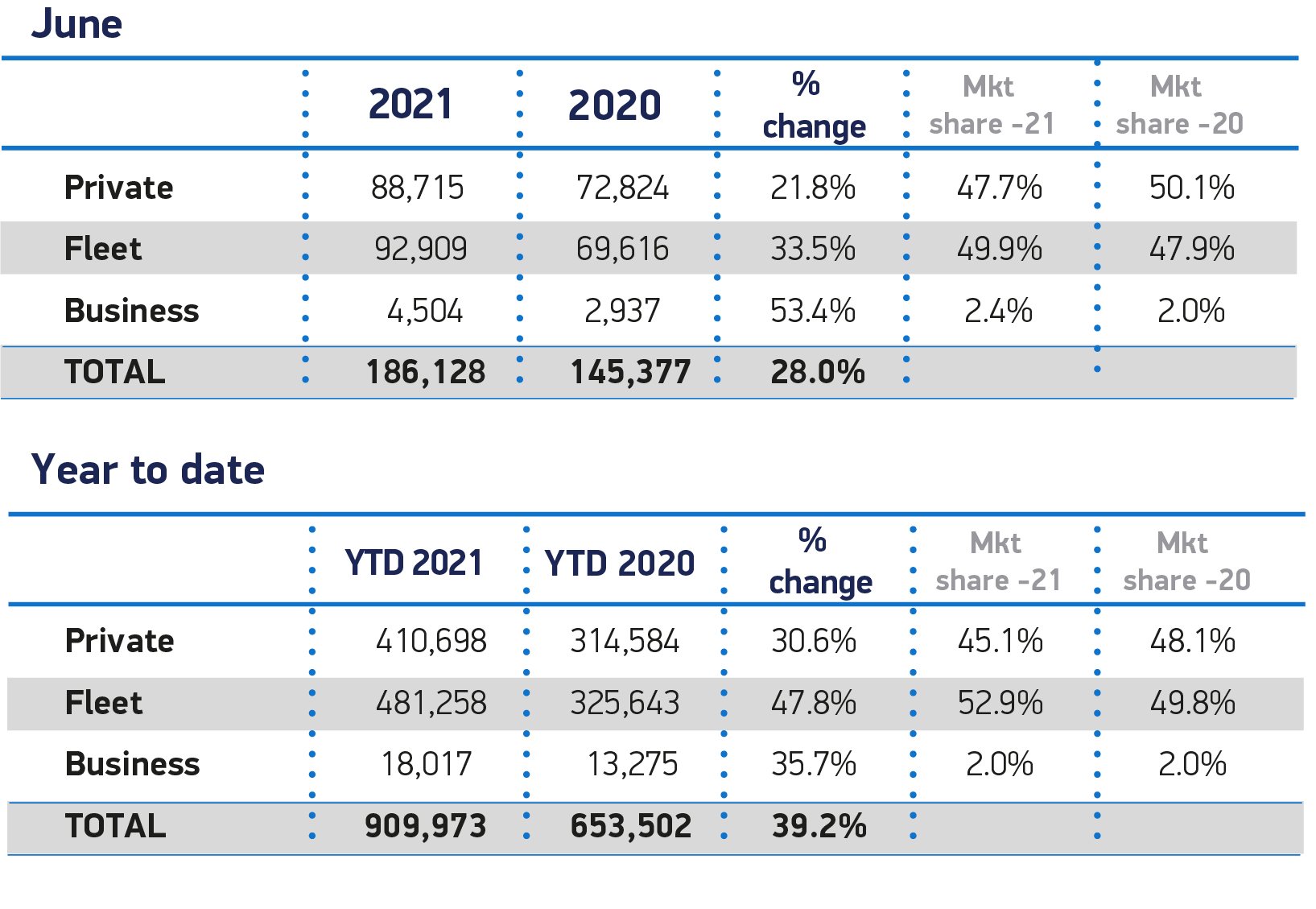 ---
1 Average June 2010-2019 – 222,652
2 Average January-June 2010-2019 – 1,242,944
3Full Throttle: Driving UK Automotive Competitiveness – SMMT/Public First, June 2021